Sleep with Me
(1994)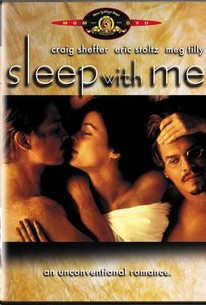 Movie Info
A menage-a-trois provides the basis for this film that consists of six short episodes containing the same three characters, each written by a different writer. Swinging L.A. residents Joseph and Sarah are going to be wed. Frank is Joseph's best friend. He has the hots for Sarah. He demonstrates this one night at a party when he passionately kisses her in front of everyone. He then begins actively pursuing her until she finally gives in. The episodes include Joe and Sarah's wedding, two poker games, the fateful dinner party, and other parties, including the one where Joseph finally confronts his friend.
Critic Reviews for Sleep with Me
Audience Reviews for Sleep with Me
Tarantino is the only reason to see this movie. It was all "middle" and no end.
Sean Gillespie
Super Reviewer
Very entertaining, and quite funny, treatment of a not so funny situation. Joseph (Eric Stoltz), Frank (Craig Sheffer), and Sarah (Meg Tilly) are three friends whose relationship gets complicated when Joseph and Sarah marry and Frank confesses his love for Sarah. The main story is a tragedy of the first order. What makes it funny are all the side stories going on with the supporting cast. And a talented cast it is. Pain and confusion drive the main story, while confusion and deep philosophical conversations (not) drive the underplot. Poker games with the boys, various house parties, dating carousels, and couples who clearly like each other populate the background upon which these two friends seek to sort out their feelings and how the friendship is to survive with Sarah now as the thing that stands between them. Bittersweet romantic comedy. Of special note, June Lockhart (Timmy's mom on Lassie before she was Lost in Space, BTW) as the mother-in-law from the planet Tedium and Quentin Tarantino as Sid are brilliant. Parker Posey and Joey Lauren Adams do a hilarious turn as wanna be country singers that is not to ne missed.
Mark Abell
Super Reviewer
Sleep with Me Quotes
There are no approved quotes yet for this movie.