Sleepaway Camp
(1983)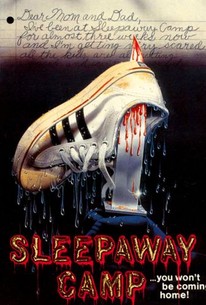 Movie Info
When Angela (Felissa Rose) and her cousin Ricky (Jonathan Tierston) go off to the dilapidated Camp Arawak for a summer vacation, a series of murders coincidentally occurs: a boy drowns in an overturned rowboat, a sex pervert is scalded to death in a vat of boiling water, another boy dies of a killer-bee attack, and yet another is stabbed to death in a shower. But the real victims are the script, dialogue, and acting, killed off in the opening scenes. Two even worse sequels followed this film.
People Who Like this movie also like
Critic Reviews for Sleepaway Camp
Audience Reviews for Sleepaway Camp
My first and hopefully only disappointment of the month, 'Sleepaway Camp' is a tawdry, sleazy slasher film without any distinguishing qualities until a mesmerizing shock-to-the-system ending that redefines everything that came before. The performances are so abysmal and amateurish that, for the majority of the film, Felissa Rose appears almost comatose and her aunt is so mannered, obnoxiously loud and theatrical that she acts as though she mistook the part for a Stanley Kubrick satire. The slice-and-dice murders are interminable and prosaic set pieces that range from boiling pots of water to shower stabbings (although a curling iron scene is hinted to be a gruesome phallic rape implement). The saving grace of this dross is the unforgettably hair-raising final shot and that feral, animalistic growl from the killer. If nothing else, the agape mouth of the killer will be imprinted in your mind while the rest of this hoary flop will wash away.
Cory Taylor
Super Reviewer
½
Just when you thought you saw everything that the 80's slasher film had to offer, Sleepaway Camp shows you that you know nothing.
½
An unique slasher horror movie, the ending is such a surprise, I wont ruin it, don't worry. I love this movie, it's cool.
Sleepaway Camp Quotes
There are no approved quotes yet for this movie.