Sleepaway Camp II: Unhappy Campers
(1988)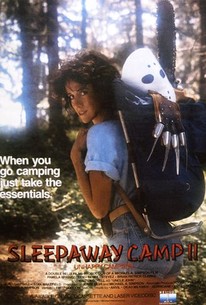 Sleepaway Camp II: Unhappy Campers Photos
Movie Info
In this horror sequel, murderous camp counselor Angela Baker (Pamela Springsteen) instructs the campers at Camp Rolling Hills on how to conduct themselves. However, when her campers go astray, Angela is on hand to correct them in grisly and gruesome ways.
Critic Reviews for Sleepaway Camp II: Unhappy Campers
Audience Reviews for Sleepaway Camp II: Unhappy Campers
Not as good as the first one, and it changes actresses for the lead role, but I liked it anyway. It's a good horror movie for the late 80s, not great but fun and enjoyable for 80s fans in particular.
As much as I like terrible horror movies, this one just didn't work for me. I'm not quite sure why.
Tim Salmons
Super Reviewer
Sleepaway Camp II has even more silliness than the first film. Stripping away the more "serious" overtones of the first, Unhappy Campers takes on a whole new approach to this tongue in cheek series. The film is simply a riot from start to finish, and Pamela Springsteen (sister of singer Bruce Springsteen) is awesome as Angela. The death scenes are hilarious, not to mention super silly. Unhappy Campers is a fun film to watch with friends over beers. A very original, and fun take on the series, Unhappy Campers is a prime example of a terrific Horror comedy that actually works. Fans of the first Sleepaway Camp are going to enjoy this film just as much due to it's over the top humour and silliness.
Sleepaway Camp II: Unhappy Campers Quotes
There are no approved quotes yet for this movie.