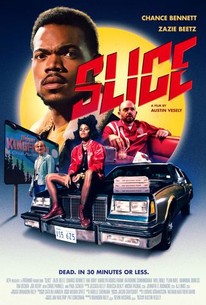 Slice
2018, Horror/Comedy, 1h 23m
25 Reviews
250+ Ratings
Where to watch
Rent/buy
Rent/buy
Subscription
Rent/buy
Rate And Review
Movie Info
In a spooky small town, when a slew of pizza delivery boys are slain on the job, two daring survivors set out to catch the culprits behind the cryptic crime spree.
Rating: R (Some Drug Material|Bloody Violence|Nude Images|Language)

Genre: Horror, Comedy

Original Language: English

Director: Austin Vesely

Producer: Brandon Riley, Kevin McGrail

Writer: Austin Vesely

Release Date (Theaters): limited

Release Date (Streaming):

Runtime:

Distributor: A24
News & Interviews for Slice
Audience Reviews for Slice
Bizarre storyline and unique take on the slasher genre. This was insane plotting, I don't recall another film being this left field and I was down for the film. The issue is the pacing and instead of being more self aware, it's almost too serious. Unsure who the audience was for this film and maybe it might develop into a cult film at some stage, but for now it is a film that underdelivered on the outlandish fun it promised. I applaud the filmmakers for attempting something crazy and different in a market full of the same. 20/09/2019

Chance the Rapper really went through way too much to make an inferior Thriller. Don't anyone ever let Rick Baker see this shit.

I had a really good run on this Halloween horror fest of mine. Out of the first nine movies I watched, seven of them were good. Ever since that point, however the 'not good' movies, incredible vocabulary right there, which comprises of every movie rated lower than three stars, have sort of taken over. I haven't seen a truly terrible horror movie this year, which is very good, but I've had a bit of a rough streak and it continues with this movie. And, much like Dead Shack and The Night Watchmen, it sort of pains me to say that this movie, that probably has a lot of what is needed in order for it to be a movie that I enjoyed. A cool, synth soundtrack. Sense of humor and a tongue-in-cheek tone. Surprising social commentary. A great cast that, clearly, had a lot of fun watching this and, overall, this movie just gives off the vibe of, very openly, being labor of love to the horror genre. And, yet, in spite of all of these things, the movie (to me) never comes together as well as it probably should in theory. This is something that I've always said, and will always say, I know that making a movie is difficult. More often than not, people that make movies work very hard to make them. And I'm not trying to denigrate the work and the hours they put in to craft a movie from the ground up. Even the worst of movies have talented people working incredibly hard behind the scenes, perhaps in fields not related to what actually ends up on screen, but they're still working very hard. That's why it pains me to say that, to me, I never felt that this was a good movie in spite of that. And I really liked the concept to boot. Essentially, in this movie, supernatural beings are real. Ghosts are real and they're just like you and me, except a little paler. They are considered second-class citizens, essentially. Werewolves and witches exist, etc, etc, etc. Nothing about this is strange to any of the people inhabiting the town they live in. As I mentioned, however, the ghosts are segregated to their own part of town called, creatively enough, Ghost Town, where they live in poor conditions. Essentially, these series of murders start happening in Ghost Town, targeting pizza delivery people that work at this pizzeria that is located in the same place where another series of murders occurred a few years earlier. This earlier series of murders, however, involved Chinese food delivery people. There's this, supposed, pro-ghost group that has a secret agenda, as they're framing the ghosts and/or other supernatural beings for the string of murders in order to access the location this pizzeria is based at as a result of the anti-ghost sentiment pushing the mayor to demolish all the buildings in Ghost Town. Essentially, the pizzeria is located on top of the gates of hell. This pro-ghost group, who turn out to be a coven of witches, want to open the gates in order to have an army of slaves in order to take over the world, it seems. I mean the ghosts all being seen as second class citizens and blamed for something that they had no part in doing is a very obvious allegory to the treatment of minorities and undocumented people living in the United States. And how the Republicans use fear-mongering, without any actual proof or evidence, in order to push retrograde laws that, surprisingly, only seem to affect minorities and colored people. The film also serves as criticism of law enforcement agencies and their efficiency, or lack thereof, in their investigations leading to them arresting the easiest possible scapegoat in order to avoid performing an actual and thorough investigation. The fact that Dax, a werewolf, is always expected, by people, to give in to his violent nature is also a criticism of how African Americans are viewed in some aspects of white culture as more violent and prone to outbursts. So, yes, the movie is definitely very socially conscious and I really appreciate that. Because it does so in a way that is more subtle and the fact that, essentially, this is a silly horror movie also helps in disguising that up. But, again, it's a movie that doesn't shy away from the fact that it is socially conscious. So, obviously, my problems with the movie don't lie in that. I think my problems lie with the fact that the movie is wildly inconsistent in terms of quality and its pacing is a little odd to me. And, honestly, I don't really even know how to explain it. While the concept is definitely very intriguing, I don't think the narrative manages to hold your attention. Sometimes it feels like it's going nowhere or random shit happens that doesn't really make sense in the context of the world this movie has established. Characters appear and then they disappear for a while for unexplained reasons and then they reappear again out of nowhere. And I guess that's sort of what you have to do when you have such a packed cast. But, at the same time, at 79 minutes, without credits, you can't really afford to have a relatively large cast of characters running around because, in short, none of them end up standing out in any sort of particular way. Well, Joe does stand out as a result of his manner of speaking. Other than that, however, no one really stood out. And that's with a talented cast in tow. Zazie Beetz is a very funny woman, but she doesn't really do much in this movie. You think she's the main character but, in the end, she really isn't. And, to me, that's also part of the problem with the movie, you're never really sure who's meant to be leading the movie. Sometimes it's Astrid, sometimes it's Sadie and sometimes it's Dax. And, for the most part, while all three are somewhat connected given that Astrid thinks that Dax, a werewolf, murdered her boyfriend and Sadie believes Dax is innocent, they're all kept relatively apart from one another. So, while the world is interacting with each other, it feels like key characters aren't when they absolutely should be. I don't know, the whole thing is wildly inconsistent, same thing goes for its humor. I don't know, I guess I COULD find a way to explain what I felt was wrong with the movie. This is still a very decent movie, but one that, despite all its interesting ideas and cool concept, doesn't end up going as far with them as they probably could, not to mention its pacing issues and uneven characters. There's a lot to like here and I appreciate this film's heart and effort but, to me, it still doesn't add up to a good movie. I'd recommend it if you're a horror fan, but I didn't really get much from it. And that makes me sad.

When a film isn't afraid to embrace the world that it has created, that's an automatic plus for me, no matter what the final product is. A film can be absolutely atrocious, but still have the redeeming factor of not being afraid to stick to its guns. Slice is the latest in a long line of films to simply go for it from start to finish. While I knew what the plot of this film was, I wasn't expecting it to play everything with a straight face. Yes, this is definitely a movie that knows its premise belongs in the 70s or 80s, but if you enjoy low-budget, wacky stories, then Slice may be a lot of fun to you, as it was to me. In no way will this movie be remembered as one of the best of the year, but if you're looking for a creative 80 minute film to sink your teeth into, here's why I think Slice is worth it. Right off the bat, this film starts with a narration that sets you up for the movie you're about to witness. This is a murder mystery, set in a world where zombies, ghosts, werewolves, and a gateway to hell are all part of this reality. If the movie doesn't have your attention from that, then I'd recommend staying away. Introducing quite a few characters in order to truly get to the bottom of the murder at hand, this film takes its time to give you answers. It knows the type of movie it's trying to be, and the characters, along with all of their actions, feel like a B-movie that was released decades ago. This particular aspect of the movie kept me smiling throughout. Through her roles in both Atlanta and Deadpool 2, Zazie Beetz has been proving herself to be a very likable on-screen presence, and her role in this film only increased her likability in my opinion. Rae Gray brings a lot to the table with her performance and Joe Kerry's off-beat character is also very likable, but the biggest standout of this film, which is what I'm hearing most reviewers comment on, is Chance the Rapper. I had no idea that he had any interest in acting, but I thought he was quite good in this film and he truly embraces this character and the evolution of it. This is a very solid cast all around. What I find the most amusing about the production of this film, is the fact that the director (Austin Vesely) is most known for directing Chance the Rapper's music videos. This is his first feature film and I honestly can't wait to see what he chooses to attach himself to next. The way he was able to bring some of these strange characters to life on-screen was purely awesome. I don't usually use that term when talking about a movie, but I just had a blast with the way this film looked and felt. Overall, Slice actually has a fairly generic premise, but the world itself is what I would recommend watching it for. The characters, direction, and overall tone that this film sets is very amusing. I found myself smiling throughout the duration of this film, due to the fact that it felt like an idea that had been thrown away in the past for being too strange. It's not a perfect film by any means, but I truly don't believe that movies like this receive the attention they deserve. This is a perfect movie to put on when you're looking for something that you visually haven't seen much of before. Slice is, for lack of a better term, groovy.
See Details