Slingshot Hip Hop
(2008)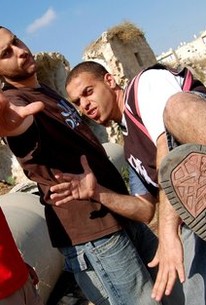 AUDIENCE SCORE
Critic Consensus: No consensus yet.
Movie Info
A new generation slings rhymes instead of rocks as Palestinian rappers form alternative voices of resistance within the Israeli-Palestinian struggle. Interweaving multiple stories of young Palestinians in Israel, Gaza, and the West Bank, filmmaker Jackie Reem Salloum spotlights a vibrant hip-hop scene as emerging artists discover rap and employ it as a means to surmount age-old schisms deepened by occupation and poverty.Tamer, Mahmoud and Suhell are the charismatic artists of DAM, the first group to put Palestinian hip-hop on the map. They struggle to produce an album despite crushing poverty, progressing from their initial awkward recording attempts to triumphant sold-out shows in Europe. As politics increasingly informs their art, these young rappers evolve into community leaders and activists for social change. Trapped in Gaza, facing ongoing military attacks, the group PR (Palestinian Rapperz) hope someday to meet their fellow rappers, but separation walls and internal checkpoints prohibit access. Surprisingly, Palestinian hip-hop is not just for the boys. Female soloist Abeer and the group Arapeyat are redefining gender roles and shaking cultural traditions.Devastated by decades of conflict, yet armed with the music of revolution, rappers portray the hopes and dreams of a new generation of Palestinians defying the boundaries that separate them. Slingshot Hip Hop is a rousing parable of the Palestinian struggle propelled by an American art form gone global.--© Sundance Film Festival
Critic Reviews for Slingshot Hip Hop
All Critics (4) | Top Critics (1) | Fresh (3) | Rotten (1)
Music-themed fests and Mideast programmers should make room on their playlists.
January 22, 2008

Profiles of Palestinian hip hop groups who are using their music as a creative protest against the injustices heaped upon them by the Israeli occupation.
Like Young Rebels before it, Slingshot Hip Hop illustrates how hip-hop appeals to the world's oppressed.
Audience Reviews for Slingshot Hip Hop
½
I had heard some positive buzz for this documentary coming off the festival circuit and it had an interesting topic. Unfortunately it was never picked up for theatrical distribution and I wasn?t sure I?d ever get a chance to see it. Luckily, the movie finally turned up on the Sundance Channel so I tivoed it right away. The movie is about disenfranchised Palestinian youth who use Hip Hop music in order to express their anger about the Israeli occupation. The hopeful message is that these young people are fighting back with words instead of bombs, it?s an excellent look at the cathartic and political power of art. These Palestinians seem to have a better understanding of Hip-Hop as an outlet for the oppressed than most closed minded observers in the media do. The film also works simply as an examination of the Israeli-Palestien conflict from a perspective that it isn?t normally seen from. That said, I can kind of see why this didn?t get picked up, it isn?t the best produced piece of work and I probably wouldn?t have paid full price to see it. Still, catching this documentary on television makes for a very interesting 90 minutes of watching.
Slingshot Hip Hop Quotes
There are no approved quotes yet for this movie.