Slutty Summer
(2004)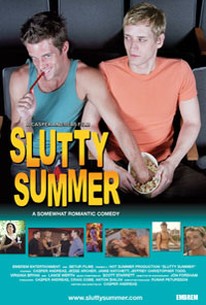 Movie Info
The eternal question of sex vs. love causes one man no small amount of annoyance in this gay-themed independent comedy. Markus (Casper Andreas) is an aspiring writer who one day comes home to his apartment to discover his long-term boyfriend is in bed with another man. Now unexpectedly single, Markus is thrown back into the dating scene, and finds himself getting all sorts of advice (not all of it called for) from his co-workers at a fashionable restaurant in Chelsea. Marilyn (Virginia Bryan) says you should set ground rules and stick to them, Peter (Jeffrey Christopher Todd) advises Markus to hold out for true love, and Luke (Jesse Archer) prefers to share stories from his own freewheeling love life. As Markus sorts out what his friends have to say, he finds himself falling for Tyler (Jamie Hatchett), a handsome model, but to his dismay Tyler makes it clear he has little use for either monogamy or long-term relationships. Should Markus follow Peter's lead and wait for Mr. Right or take Luke's advice and settle for Mr. Right Now? Slutty Summer was written and directed by Casper Andreas, who also played Markus; it was his first feature film.
Critic Reviews for Slutty Summer
Audience Reviews for Slutty Summer
Wow. Who'd have thought an entire film could be shot in soft focus? Giving leeway for a low budget, independent LGBT film, "Slutty Summer" is decent. The acting's not great, but good enough for what it is. Decent story. Acceptable script. Nothing really good about the film, but it's not bad either.
Christian C
Super Reviewer
Slutty Summer Quotes
There are no approved quotes yet for this movie.