Smoke Signals
(1998)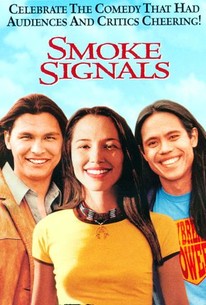 Movie Info
The unavoidable synopsis -- two young American Indians leave the reservation to resolve their problems and to find themselves -- belies the poetry of this well-acted, well-directed and largehearted movie.
People Who Like this movie also like
Critic Reviews for Smoke Signals
Audience Reviews for Smoke Signals
½
Sherman Alexie is one of most important Native American fiction writers of the past century, and with this adaptation of his short story we see the real strife of these people, living in reservations. The film follows a young man (Beach) and an old friend (Adams) who take a road trip to put his father to rest. The film deals with prevalent issues in the Native American community including poverty, alcoholism, and racism from a heavily white population. Having Native American protagonists and a heavily NA cast is pretty unheard of in many films, even recently, and seeing this story made is really quite interesting. The story is a little rushed, as the journey takes a short amount of time. Most of what we see is Victor (Beach) trying to understand the legacy that his father has left for him. We see a transformation, but it goes by so fast that it's hard to savor exactly what has occurs before the story inevitably ends. We're also not sure what either Thomas or Victor will ultimately do now that this "adventure" has taken place. It just doesn't have the strength behind it that the original story invokes.
Spencer S.
Super Reviewer
I recently finished reading Sherman Alexie's "The Absolutely True Diary of a Part-Time Indian" and felt compelled to revisit Smoke Signals for about the 8th or 9th time. I love this film a little more every time I view it, which is easy to do considering that the first time I saw it I just wasn't that impressed. I had felt that, in their quest to have the first "All Indian" movie, they had sacrificed a little quality and technical expertise. Maybe I still feel that's true but it's not something I notice much any more. Now I find myself engrossed in the rich characters, especially Arnold (Evan Adams). Arnold is a misfit and yet he might be the most 'indian' character in the entire ensemble. He's bright, he's introspective, and he's terribly, terribly honest. Even when he's embellishing stories he is still exposing truths. Much like it's screenwriter, Smoke Signals is deceptively deep, intelligent and philosophical even if it's not perfectly crafted. .
Randy Tippy
Super Reviewer
½
[font=Century Gothic]"Smoke Signals" starts at a celebration on July 4, 1976 on the Coeur d'Alene Indian Reservation where Arnold Joseph(Gary Farmer) made a stuning catch to save the life of infant Thomas, while his parents died in a fiery blaze. Later, Arnold cut his hair short before disappearing from the reservation, leaving behind his wife(Tantoo Cardinal) and young son, Victor. As an adult(Adam Beach), Victor receives word that his father died in Phoenix. But because he is broke, he cannot go there to claim the body and possessions. However, Thomas(Evan Adams) agrees to fund him, as long as he can tag along...[/font] [font=Century Gothic][/font] [font=Century Gothic]"Smoke Signals" is a an endearing seriocomic road movie that is more concerned with the destination than with the journey.(I suppose there is some symbolism in the men going from the sight of a fire to Phoenix but maybe I'm just reading too much into it.) The movie is about redemption and forgiveness as Victor tries to reconcile the abusive father he once knew with the memories that other people have of him. That is why, as with any story, it does not really matter if it is exactly true, as long as the essence of it is right.[/font]
Smoke Signals Quotes
| | |
| --- | --- |
| Victor Joseph: | You gotta look mean, or people won't respect you. White people will run all over you if you don't look mean. You gotta look like a warrior. You goth look like you just came back from killing a buffalo. |
| Thomas Builds-the-Fire: | But our tribe never hunted buffalo. We were fishermen. |
| | |
| --- | --- |
| Thomas Builds-the-Fire: | Hey Victor! I'm sorry 'bout your dad. |
| Victor Joseph: | How'd you hear about it? |
| Thomas Builds-the-Fire: | I heard it on the wind. I heard it from the birds. I felt it in the sunlight. And your mom was just in here cryin'. |
| | |
| --- | --- |
| Thomas Builds-the-Fire: | Hey Victor! I remember the time your father took me to Denny's, and I had the Grand Slam Breakfast. Two eggs, two pancakes, a glass of milk, and of course my favorite, the bacon. Some days, it's a good day to die. And some days, it's a good day to have breakfast. |
| | |
| --- | --- |
| Thomas Builds-the-Fire: | Hey Victor! |
Discussion Forum
Discuss Smoke Signals on our Movie forum!