Snow on tha Bluff
(2012)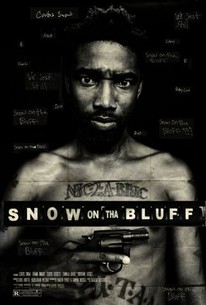 AUDIENCE SCORE
Critic Consensus: No consensus yet.
Movie Info
Snow on tha Bluff is the story of, Atlanta robbery boy and crack dealer, Curtis Snow, who steals a camera from some college kids in a dope deal and begins documenting his life. At first, it's business as usual for Curt. He robs dope boys, he runs from the cops, and he sells drugs, all while trying to provide for his baby momma and 2-year-old son. But when one of the drug dealers he ripped off comes back for revenge, things in Curt's life spirals out of control. -- (C) Official Site
Critic Reviews for Snow on tha Bluff
Audience Reviews for Snow on tha Bluff
½
While it's unclear how much of this story was staged by director Damon Russell, our protagonist Curtis Snow is surely real, and here he is in his element. A drug dealer, a father, and a man ravaged by grief through the deaths of many people he loves, Curtis is the perfect specimen for a faux documentary. This film details the War on Drugs, the real trauma of death, and retaliation between rival gangs via violence and theft. Many of the things shown in this documentary are indicative of the conditions of life in poverty stricken areas, especially "The Bluff," a neighborhood in Atlanta rife with crime and drug dealing. There has never been a depiction as full of depth, or a documentary as real to life, as this portrayal of Snow, a man who has lost many people he loves, yet continues in his life of crime because it's his only means of keeping himself and his son afloat. Very eye-opening and dramatic, this is a must-see for those who haven't experienced a world of disparity.
Spencer S.
Super Reviewer
Snow on Tha Bluff is a pretty unknown film that chronicles the life of Curtis Snow. After he robs some people looking to buy drugs and takes their camera, he decides to tape all his goings on. This includes: robbing drug dealers, selling those drugs he sold, drinking and among weed on the street, providing money for his baby momma and son, and avoiding the police. Life turns on him when one of the gangsters he ripped off starts coming after him. What's good about this movie is how real it feels with the handheld camera approach. Movies like Snow on Tha Bluff prove that there are still avenues for it. This movie shows the hood life like few are able to do. I don't know if these are truly real events or not, and it doesn't really matter because it is true regardless. Shit like this happens everyday in countless cities. I liked this movie for the most part. It's a short movie about dope dealing and killing people, so it's not for everyone. This shows a side of life in America that most people rather just look the other way from. If you're into the hood setting for films, you can't go wrong with Snow on Tha Bluff. It's definitely worth a look.
Melvin White
Super Reviewer
Snow on tha Bluff Quotes
There are no approved quotes yet for this movie.