Solo Con Tu Pareja
(1991)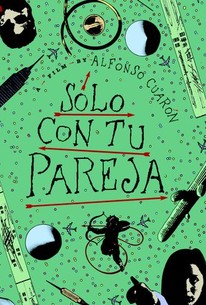 Solo Con Tu Pareja Photos
Movie Info
Tomas is a very busy fellow and is about to grow much, much busier. He has his current girlfriend in bed in one apartment, and his lady boss in bed in the next one, and is crossing from one to the other on a window ledge. Neither one has figured out what he is up to. His juggling act becomes much more complicated when, on one occasion from the ledge between the two apartments he spots his pretty new neighbor. It's only a matter of time before one or all of these women gives him his richly deserved comeuppance.
News & Interviews for Solo Con Tu Pareja
Critic Reviews for Solo Con Tu Pareja
Audience Reviews for Solo Con Tu Pareja
A fine first film by Alfonso Cuarón and you can see his talent throughout this oddball comedy.
½
"Pick a peck of pickled pepper..." Young yuppie and womanizer Tomas (Gimenez Cacho) is caught in a trap when falsely diagnosed with AIDS by Silvia (Liubomirova), a nurse who finds herself cheated by the young Casanova.
REVIEW
Tomas Tomas is an enthusiastic playboy adamant about not using condoms. When a scorned fling is put in a situation perfect for payback, she falsely marks his AIDS test positive, setting him off on a darkly comic quest to kill himself, but not before the love of his life finds out her husband is cheating on her and decides to end her own life as well. Tomas takes this opportunity to take her with him into death, as the one woman in his life, as far as we know, that he has a shred of respect for. This is revealed as he makes a list of the women he's slept with, laughing as he remembers their nick names, not necessarily even their real ones. Visually, this film marks a point before Cuaron adopted his now staple handicam cinematography. The shots are graceful and smooth, the editing the same. It was gorgeous, with more than one shot inserted solely for the composition (off the top of my head, the vial of Tomas' blood filling up in front of a black background, though the room was white) At more than one time I felt like pausing the film just to take in the images. While it marks a step toward what he will become, Solo Con Tu Pareja is a much more accessible and enjoyable film than the challenging ones that Cuaron eventually becomes known for. As a ribald comedy it succeeds, and it may be due to it's not trying to be. I'm not saying it's trying to be popcorn, but it also doesn't strive to change lives.
Lorenzo von Matterhorn
Super Reviewer
Good dark comedy. Alfonso Cuarón's first film shows raw talent, that he would later polish in the awesome Y TU MAMA TAMBIEN and the masterpiece CHILDREN OF MEN. The script is sharp and very funny, presenting a great original story. The camera work is impressive, as well as the exterior shots. Daniel Giménez Cacho, one of Mexico's finest actors, is incredible here. My only complaint is the climax. It seemed as if the movie resolved itself too quickly, and the characters were driven to suicide by something that happened only moments before. The style and comedic tone reminded me a little of early Almodóvar.
Fernando Rafael Quintero Castañeda
Super Reviewer
Solo Con Tu Pareja Quotes
There are no approved quotes yet for this movie.