Something in the Air
(2013)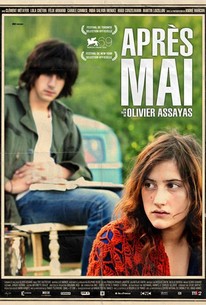 TOMATOMETER
AUDIENCE SCORE
Critic Consensus: Insightful, solidly acted, and smartly filmed, Something in the Air skillfully captures the idealism of youth without falling back on cheap nostalgia.
Something in the Air Videos
Something in the Air Photos
Movie Info
On behalf of Sundance Selects, you and a guest are invited to a screening of SOMETHING IN THE AIR, the newest film by French filmmaker Olivier Assayas. Following his critical triumphs, SUMMER HOURS and CARLOS, Assayas' semi-autobiographical new feature is a vibrant, incisively crafted story of a young man's artistic awakening in the politically turbulent French student movement of the early '70s. In a nod to his earlier film COLD WATER, Assayas' surrogate Gilles (newcomer Clement Metayer) is a graduating high school student in Paris deeply involved in the counterculture of the time. While Gilles begins to realize that his interests lie more in the revolutions in music and art, he finds himself pulled into ever more dangerous political protests by the people around him, especially his radicalized girlfriend (Lola Créton of GOODBYE FIRST LOVE). Illuminating and elegiac, Assayas' story celebrates that thrilling, evanescent moment in history when young people could feel revolution just within their grasp.
Rating:
NR
Genre:
Directed By:
Written By:
In Theaters:
On DVD:
Runtime:
Studio:
Cast
News & Interviews for Something in the Air
Critic Reviews for Something in the Air
Audience Reviews for Something in the Air
½
Even while still in high school, Gilles(Clement Metayer) is very much involved in the Revolution in 1971, carvng an Anarchist A symbol in his desk. Outside of school, he attends meetings before running from police in demonstrations. Otherwise, he and his friends tend to be in a running battle with security. At least, until one of the guards is seriously injured and Jean-Pierre(Hugo Conzelmann) is identified. So, Gilles sees this as the perfect opportunity to go to Italy to practice his art, what with his girlfriend Laure(Carole Combes) already having traveled to London. "Something in the Air" is a semi-autobiographical coming of age story that is also quite evocative in its time and place. Unlike a lot of other depictions of radical politics of this era(in this case, refreshingly show that they did continue after May 1968), the movie avoids cliche by showing the evolution of political and personal thought over the period of about three years.("The Land that Time Forgot" reference at the end sets a time frame for events in the film.) Also, Olivier Assayas thankfully avoids the navel gazing of some of his other films, while producing a stunning sequence centered around bonfires.
½
One regret: wish I'd seen this over the summer as opposed to now. All right. Well-- First thing about "Something in the Air" you need to shake is, it isn't really about anything. Now, that's a pretty huge threshold to clear; I get why some would be apprehensive about digging it, and I was too, for LONG stretches. It's basically a mosaic of struggling to pair art with commerce in, not just a changing world, but in changing, well, people. As in growing up, and being forced to conform. Sounds so hackneyed, I know. But like "Blue Is the Warmest Color" -- where that great movie so flawlessly captured the spirit and nature of being in love -- writer-director Olivier Assayas' drama, looping sporadically around a rowdy team of youths in the aftermath of France's nationwide worker protests of May 1968, bottles gloriously a sentiment of unrest and confusion, and does it all with romantic gusto to boot. One time, in singing the praises of Terrence Malick's way-underrated "To the Wonder", a friend of mine said to think about the rest of your life when you're thinking about that film. I'd say the same applies here. It's no coincidence Assayas begins with the visual stimulation of political revolution and sex, and successively details the voyeuristic fallout of that initial passion and excitement. "Something in the Air" is honestly a work of such bittersweet breadth as I've ever seen before, if ever before at all, and in Assayas' rich filmography of outbreak and heartbreak, it's the closest, most sweeping example he's yet provided of bringing an historical canvas to devastating life. (76/100)
Nick Ondras
½
Gilles (Metayer) is a young wannabe-anarchist in his final year of high school, engaging in riots, graffiti-ing, and various other disruptive modes of communicating his political philosophy. One night, he and his friends attack their school with petrol bombs, resulting in an injury to a security guard who has a bag of cement dropped on him from a height by Gilles. When one of the group's ID cards is found at the scene, they flee France for Italy, beginning a summer of sex, drugs and psychedelia. There are some films I like to give a few days to sink in before writing a review. Such films usually receive positive reviews from me, if for no other reason than the fact they occupied my thoughts in a positive manner. Then there are those films which are so bad, I rush to my keyboard to exact a petty form of revenge, chasing the film-maker off the lawn of my subconscious before he can get his creative ball back. I know, of course, he'll simply buy a new ball, one which will find its way over my wall at some point in the future, but it gives me a small pleasure to deflate this one, regardless. 'Something in the Air' is one such film. Allow me to puncture Assayas' ball. The film is thought to be somewhat autobiographical, and, if this is indeed the case, Assayas teen years are nothing to boast about. I struggle to remember a lead character I wished to smack bout the face so much as the dopey-eyed Gilles, a spoiled, self-righteous brat who inexplicably seems irresistible to pretty French girls. Along with his friends, they're a despicable bunch of entitled clowns who speak about helping the "working classes" as if referencing a group of disease-sufferers. The idea that some people work for a living seems repugnant to these middle-class snobs. They're like a seventies, European version of the elitist teens of 'The Perks of Being a Wallflower', but with more body hair, and, no doubt, worse body odor. Watching these juvenile Citizen Smiths sit around discussing Buddhism, Communism, Feminism, and many other "isms", in their uninformed way, is one hell of an irritating way to spend two hours. There's nothing in the air of Assayas' shallow film. I've seen more profound Tommy Hilfiger commercials.
The Movie Waffler
Super Reviewer
Discussion Forum
Discuss Something in the Air on our Movie forum!
News & Features