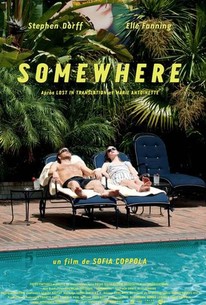 Somewhere
2010, Comedy/Drama, 1h 38m
198 Reviews
25,000+ Ratings
What to know
critics consensus
It covers familiar territory for Sofia Coppola, but Somewhere remains a hypnotic, seductively pensive meditation on the nature of celebrity, anchored by charming performances from Stephen Dorff and Elle Fanning. Read critic reviews
Where to watch
Rent/buy
Rent/buy
Rent/buy
Rate And Review
Movie Info
While recuperating from an injury at Beverly Hills' famed Chateau Marmont, bad-boy actor Johnny Marco (Stephen Dorff) receives a visit from his young daughter, Cleo (Elle Fanning). Though his mind is not on parenting, she has a way of inserting herself into her father's daily routine. Slowly, the two bond, forcing Johnny to re-examine his life of excesses and his relationship with Cleo.
News & Interviews for Somewhere
Audience Reviews for Somewhere
Among the greatness that was "Lost in Translation," Sofia Coppola directs a very simple, yet elegant film that explores the life of a divorced actor who bnds with his daughter, taking her along on his trips. With many one-shot scenes, you can really immerse yourself in this world with the characters and when a movie can pull that off I love it. The big problem that this film has its that it is very simple and very slow, so I only recommend this film if you are willing to get into a film. Stephen Dorff and Elle Fanning are a believable father/daughter duo and nothing about them felt forced, aside from the fact that he is a huge movie star in the film and there are moments where he is able to drive a car around without anyone noticing. This is just a few nitpicks though, because "Somewhere" is a great film. Sofia Coppola has come along way in directing feature films and there is something about every one of her films that intrigues me. "Somewhere" is not a perfect film, but it is something special in my eyes.

At its awfully slow-paced rate, 'Somewhere' (2010) is nothing but director Sofia Coppola relying more on her film's realism than its actual story. So what's the plot? Well... the film follows the subtle neglected day-to-day life of a Hollywood actor, Johnny Marco (played by the talented Stephen Dorff). While taking care of his eleven-year-old daughter (played Elle Fanning), Johnny gets the time to bond with her and personally reexamine his life until the film draws to a somewhat encouraging yet ambiguous end. I like the nice chemistry between Dorff and Fanning, and the great soundtrack, but as a whole nothing really happens in this movie. It's like Sofia wanted to make something with the same tones of previous film, 'Lost in Translation' (2003), and ultimately it got lost.... in translation. If you have the patience and are very familiar with Sofia Coppola's work, this very might be up your alley. (You probably already have seen this!) But if you want a more straight-forward story, go try somewhere else....

While receiving mysterious and threatening text messages, an actor takes care of his daughter. Slow and unencumbered by sticky inconveniences like plot and character development, Somewhere goes nowhere. The film drifts from one episodic bit of nonsense to the next. All the while, father and daughter enjoy conveniences that no normal person could aspire to, and some mysterious plotline about threatening text messages wanders in on its way to another film. I never think about Stephen Dorff, but I'm always glad when I see him in a film. For a while, I was compelled by his performance, but when I realized that the film forgot to figure out what its plot is, I stopped caring. Overall, I'm starting to think that Sofia Coppola's one trick was Lost in Translation, but then there's The Virgin Suicides too, so I guess she's a two-trick pony.

It's admittedly less engaging and much slower than Coppola's other films, however Somewhere is still rewarding and memorable due to Coppola's signature ability to create atmospheric films that continually haunt the viewer. Beautifully filmed, Somewhere is another example of how Coppola doesn't always want to tell a story (arguably you could say nothing really happens in the film) but rather she wants the viewers to experience a moment in time. The film may be empty of any compelling plot, but this is not its purpose. Its purpose is to have the audience experience every moment with these characters. Slow, yes. Boring, it is not. With each static shot, Coppola not only allows her artistic vision to shine, but also draws us in--making us part of these character's lives. Unlike the majority of films that leave us without any emotions or attachment to the characters at all, Somewhere is able to make us feel and make us live in that moment with Dorff and Fanning. Even the simplest shots---with Dorff's character walking about his own dimly lit place at night while a party is happening around him---have the most profound effects on the viewer. Somewhere, even if it is not as brilliant or as exciting as Coppola's other efforts, is still proof that she can, as a director, make us feel something that other films simply cannot.
See Details