Sorority House Massacre
(1987)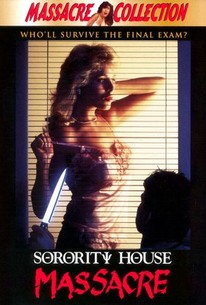 AUDIENCE SCORE
Critic Consensus: No consensus yet.
Movie Info
While staying in a sorority house, a young woman is terrorized by a mental hospital escapee in this misogynistic thriller directed by Carol Frank.
Critic Reviews for Sorority House Massacre
Audience Reviews for Sorority House Massacre
½
Another Roger Corman produced slasher flick?! Yes indeed and it's just a Carbon copy of Halloween with more gore and sex really.....Possibly just made for markets here in Japan. Still i love Corman and the crap he made but this is just terrible and slow and boring but the gore was cool and the poster is creepy. Bad acting and direction and no doubt a very low budget film.
½
I'd read a lot of harsh reviews of this one before I sat down to watch it, but of all the criticisms, the only one that I felt really applied was the lack of gore. Apart from that, I liked a lot of things about this one. The thick layers of mid eighties cheese for one thing, as well as the utterly generic plot gave me a warm, comforting been there, done that but just keep coming back for more feeling. I found the dream sequences kinda fun and intriguing, even though they had a lot of unused potential. The acting was pear for this sort of movie, ie. not great, but fortunately not grating. Plus there was a little bit of mindless nudity, which did make me briefly grin. What elevated this film above being wholly ordinary for me though were the frequent moments of suspense, and cool, if never very bloody killings. The lack of much blood annoyed me, as gore was clearly a necessary part of the film that just seemed to have been left out, but even without it, the killer set about his business with an almost Michael Myers verve and dedication, which meant for some good excitement, especially towards the end. That about sums it up, as far as I can remember. Definitely recommended, mostly to eighties slasher fans who don't mind there being not very much gore.
Cassandra Maples
Super Reviewer
Similar to Halloween, this is a great slasher film which was direct-to-video in the 80's. It has an awesome dream sequence which freaked us out as kids. Once the killer arrives on the scene, it's a great set of killings and end chase. A quality film. Ignore that beautiful woman behind the blinds!
Lafe Fredbjornson
Super Reviewer
Sorority House Massacre Quotes
There are no approved quotes yet for this movie.