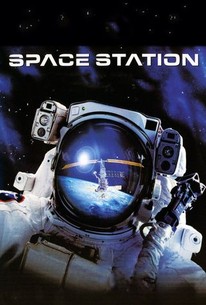 Space Station
2002, Documentary, 47m
23 Reviews
2,500+ Ratings
Rate And Review
Movie Info
In this documentary, astronauts from the Kennedy Space Center complete intensive training, say goodbye to their loved ones, launch and meet cosmonauts from the Baikonur Cosmodrome 220 miles above the Earth, where they work to complete the International Space Station, a permanent laboratory designed to study the long-term effects of human exposure to zero gravity. The team struggles with procedures as dangerous as they are delicate, all while orbiting Earth at a speed of 17,000 miles per hour.
Audience Reviews for Space Station
A little boring at times and the 3D isn't consistently good, but it's still cool to see space like this. I watched it on Blu-ray 3D. Even though I saw this in IMAX 3D when it came out about a decade ago, I don't remember it. I'm sure the experience is much more worthy in IMAX.

It's pretty short and doesn't go into a lot of detail, but I guess it was made for the imagery, which was coo, however, I didn't see it in IMAX, just in my living room...

The first space adventure from IMAX was worth the wait. This documentary film chronicling the first stages of construction of Space Station Alpha from the launch of Zarya to the Expedition Two crew was incredible. I watched this at Gold Coast's Dreamworld and wished it should have English subtitles on.
See Details