Sparkle
(2012)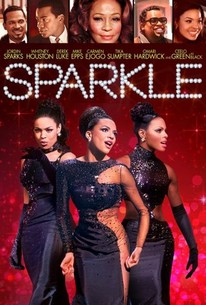 TOMATOMETER
AUDIENCE SCORE
Critic Consensus: While undeniably melodramatic and old-fashioned, Sparkle transcends its formulaic trappings thanks to Salim Akil's empathetic direction and strong performances from a committed cast.
Movie Info
Musical prodigy, Sparkle (Jordin Sparks) struggles to become a star while overcoming issues that are tearing her family apart. From an affluent Detroit area and daughter to a single mother (Whitney Houston), she tries to balance a new romance with music manager, Stix (Derek Luke) while dealing with the unexpected challenges her new life will bring as she and her two sisters (Carmen Ejogo and Tika Sumpter) strive to become a dynamic singing group during the Motown-era. -- (C) Sony
People Who Like this movie also like
News & Interviews for Sparkle
Critic Reviews for Sparkle
Audience Reviews for Sparkle
½
I thought the actress who played Sister walked away with this movie (Carmen Ejogo). I thought Jordin was supposed to be the star in this, her debut movie. I love her voice; a beautiful girl, but one who should take acting lessons before she makes another movie. Whitney was just so...sad. I was sorry to see her like this. The music was pretty good, as well as the male actors. Dreamgirls was better, but this film made a good effort...
Cynthia S.
Super Reviewer
½
I don't really see too much potential in a dramatic study on the rise of Robin Scherbatsky as Robin Sparkles, but I do indeed love "How I Met Your Mother", so I reckon I'll run with it. I can think of quite a few people who would say that I probably shouldn't even joke about that, not just because it's lame, but because "How I Met Your Mother" is just too darn white of a show to be associated with a film like this, but come on, people, some of these leading ladies are about as dark as butter and this is a remake of a film written by white people, one of whom was, of all people, Joel "Batman Killer" Schumacher, so I think at least one white association joke can be slipped through. Real quick, is anyone stopping for a second to think about how still their getting Jordin [u]Sparks[/u] to play a girl named [u]Sparkle[/u] (I've heard of silly black names, but that's... still better than quite a few black names that I've nowadays) is or is everyone's mind occupied by their worrying that this film's coming out so soon after the death of Whitney Houston will mean that certain parts will feel messily slam-banged together? Don't worry, folks, principal photography wrapped about three months prior to Houston's tragic passing, so don't expect Houston to go the way of Heath Ledger and turn into Johnny Depp, Colin Farrell and Jude Law for some strange reason that the filmmakers didn't even bother to explain. I don't exactly know why you would expect that, but if you did, then I thank you for not letting the filmmakers know, because it would be a stupid idea and this film is nothing if not most everything that you would expect. Well, it's that, and, at times, more well-directed, well-acted and altogether quite better than I expected. Still, the fact of the matter is that this film, with all of its high points, isn't without its familiar spots to go along with a couple of other problems. Marking the second feature film effort of Salim Akil, this film is generally reasonably well-directed enough to breathe much life into entertainment value, yet on the whole, Akil's limited experience is borderline palpable, as there come quite a few occasions in which confidence in storytelling slips and leaves plotting to feel a touch awkward in its rather problematically old-fashioned structure, providing only so much bite to exposition, to where even a couple of key points in flesh-out come off as slapdashed and barely effective. Of course, awkwardness in Akil's storytelling is quite easily at its most intense upon the incorporation of particularly intense drama, or rather, particularly intense melodrama, because when things pick up, or at least make attempts at picking up, Akil uses overbearing atmosphere and generic score work to drench the film in a kind of cheesiness that potently emphasizes the near-profound lack of subtlety in Mara Brock Akil's screenplay, which isn't to say that the flawed director's wife's own flaws end there. Brock Akil's dialogue is generally decent, and even with a couple of high points, yet also has its fair share of fall-flat lines that rarely throw you off too much, but do indeed slow down momentum a bit. As for characterization, while the performances are convincing enough to not simply sell you on the characters, but often obscure the character structure flaws, Brock Ali, or at least the hardly improved upon original effort of Joel Schumacher and Howard Rosenman, crafts stereotypical characters with few layers and quite a bit of artificiality to supplement the film's awkward story structuring and telling. The characters are indeed well-portrayed enough to sustain your investment, yet too formulaic, though perhaps not quite as formulaic as the plot itself, as this film, time and again, plummets into trope after trope, until it is rendered all but nothing short of hardly anything that you haven't seen before, thus predictability ensues intensely. I wasn't exactly going into this film expecting a train wreck, yet I wasn't expecting to find as many high points as I did, and yet, for every strength that exposes potential within this project, there is a shortcoming or two to hold back - pardon the word choice - "spark", and render the final product rather underwhelming. Still, the film hardly fizzles, going kept very much alive by many a - yes, I'm gonna say it again - "spark", including sparks of a musical nature. There come moments in which the musical numbers break the '60s illusion through a kind of contemporaneous overbearingness, so there are indeed certain soundtrack pieces that are better than others, yet with that said, whether they be commendable classics lifted from the musical archives or newly-recorded tunes that stand as something all too rarely seen in the music industry nowadays, genuinely inspired and enjoyable, each track is, to one degree or another, enjoyable and colorful, breathing quite a bit of life into this film. Musically, the film kicks, maybe not too much, but enough to liven things up, and as far as substance is concerned, well, as I said all throughout the last paragraph, there are missteps abound with the structuring and telling of the story. Still, as formulaic and messily-handled as the story is, there's a certain worthiness to it that we have indeed seen done time and again, and better, yet not so often that kicks has dissipated, as the story concept still has enough juice to it to hold your attention, or at least Salim Akil makes it seem that way when he needs to most. Director Salim Akil is indeed flawed, showing his limited experience with big-screen production by slipping up in full assurance, particularly when the melodrama comes into play and cheeses thing up a bit too much, yet more often than not, Akil is inspired, maybe not to where he earns your full investment, but certainly to where his, as put best by the Rotten Tomatoes consensus, "emphatic" touches leave entertainment value to - yup, one more time - "spark" about as often as they leave subtlety to lapse tremendously. Akil still has some work to do with his directing skills, yet he keeps entertainment value going, while the performers keep substance going as much as they can with only so much material and so much faulty substance to compensate for, with Cee Lo Green proving to be as charming as always... in his one scene... the first, while Derek Luke charms and occasionally engages as the struggling yet loving and ambitious love of a starlet, the late Whitney Houston sometimes compels as the expecting and somewhat guilty harsh mother of budding free spirits, and the dashing Mike Epps proves both deliciously evilly charismatic and reasonably effective as the careless brute of a dirtbag bad influence, or rather, the quite possibly most generically-crafted character in this whole film. As for our leading ladies, Tike Sumpter, Mrs. Jeffrey Wright herself, Carmen Ejogo, and a debuting Jordin Sparks, when they find material, they deliver on a surprising amount of striking emotional range, and between those moments of material, the girls charmingly convince as ambitious spirits and, by extension, worthy leads. There are plenty of strengths within this film that goes so tainted that much potential finds itself underexplored, yet when it's all said and done, whether it be through the strengths or a certain charm to the potential, the film finds itself graced with enough spa...- juice to keep you sticking with it through thick and thin. To fizzle things down, Salim Akil's confidence is limited, thus storytelling often descends into a bit of awkwardness that tones down potential impact of certain pieces of exposition and plagues the should-be deeper moments with considerable melodrama, made all the worst by missteps within Mara Brock Akil's screenplay, which also turns in the occasional fall-flat piece of dialogue, many a stereotypical character and an extremely formulaic and, by extension, predictable plot, thus the final product is left with only so much bite, yet still enough for it hold your attention, boasting a generally strong soundtrack and reasonably intriguing subject matter, as well as an livliness to inspired areas in Akil's direction, and a slew of charming and sometimes strong performances, thus leaving Salim Akil's "Sparkle" to stand as an entertaining melodrama, even with its messy notes. 2.5/5 - Fair
Cameron Johnson
Super Reviewer
The original SPARKLE was set in 1950s Harlem, and this remake moves things to 1960s Detroit, perhaps to better link things to the Motown era and distance itself from DREAMGIRLS. Regardless, my experience with both films was rather similar. Not great by any means, but filled with wonderful moments and performances, some catchy (although a little too mid-tempo) songs, the newer version is worth seeing alone for Whitney Houston's last screen performance. Fully committed here, she vividly brings to life a controlling and churchgoing mother to three daughters who want to break out as a musical trio, ala THE SUPREMES. Remember, this story came first years before DREAMGIRLS, and it's all the more endearing as a result. Let's start with the positives. In addition to Houston, who really does a blazingly good job here (just narrowly skirting campy DYNASTY territory here), we have Carmen Ejogo as Sister, the group's lead singer and lightning rod for T-R-O-U-B-L-E. Every second she's on screen, your eye immediately goes to her. She shows a LOT of range here, very similar to Diana Ross in LADY SINGS THE BLUES, and I felt for her every step of the way. Here's a future star worth watching. Cee Lo Green is natural and dynamic as a Club singer, and the numbers, the signature, "SOMETHING HE CAN FEEL", and Ejogo's first solo number, "YES I DO" are true standouts. I hate to throw negatives at a film with such a good heart, but here goes. At times the film felt over-directed. One sequence in particular, limning Ejogo's downfall with an abusive husband felt slowed down to better emulate, what? The sword-and-sandals epic, 300? Most of the time, director Salim Akil keeps things wonderfully natural, so I won't harp on him experimenting stylistically every now and then. Jordin Sparks is definitely a better singer than actress (she Alicia Keyes the hell out of her big final numbers), and her performance is all kinds of bland. Sweet, endearing, but more Disney Princess than gritty urban dweller. Her chemistry with Derek Luke is so chaste that I wasn't convinced they ever even met each other, let along occupied the same scenes together. There are also times when the screenplay lurches around in such odd ways. Then there's the elephant in the room. This film brings the church front and center, and go to great lengths to never disparage it, despite the Iron Lady actions of Houston's character. I appreciated very much that it wasn't a simple cut-and-dried attack, and that the daughters always seems to treat their disapproving mother with such respect. Personally, I would have preferred a little more grit in the debate, as it could have heightened the drama there a tad...but small complaints for a film with so much to offer. In VARIETY terms, I'd say" SPARKLE SPUTTERS BUT DOESN'T FLAME OUT". Tacky, but apropos.
Glenn Gaylord
Super Reviewer
Sparkle Quotes
| | |
| --- | --- |
| Sister: | Sister can't fly with only one wing! |
| | |
| --- | --- |
| Sparkle: | All I think about is music. |
| | |
| --- | --- |
| Stix: | Don't fall short because you can't admit that you want it. |
| | |
| --- | --- |
| Emma: | Keep dancing like that you will bring home some kid you can't feed. |