Spy Kids: All the Time in the World in 4D
(2011)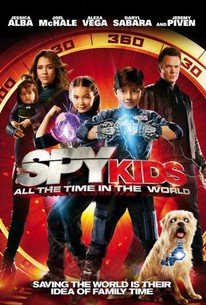 TOMATOMETER
AUDIENCE SCORE
Critic Consensus: Burdened by a rote plot and unfunny scatological humor, All the Time in the World suggests that the Spy Kids franchise has run its course.
Spy Kids: All the Time in the World in 4D Photos
Movie Info
On the surface, Marissa Cortez Wilson (Jessica Alba) has it all...married to a famous spy hunting television reporter, a new baby and intelligent twin step kids. But in reality, trying to mother Rebecca (Rowan Blanchard) and Cecil (Mason Cook), who clearly don't want her around, is her toughest challenge yet. Also, her husband, Wilbur (Joel McHale), wouldn't know a spy if he lived with one which is exactly the case - Marissa's a retired secret agent. Marissa's world is turned upside down when the maniacal Timekeeper (Jeremy Piven) threatens to take over the planet and she's called back into action by the head of OSS, home of the greatest spies and where the now-defunct Spy Kids division was created. With a little help from a couple of very familiar Spy Kids, Carmen (Alexa Vega) and Juni Cortez (Daryl Sabara), they just may be able to save the world and possibly bring their family together while they're at it. -- (C) Weinstein
People Who Like this movie also like
News & Interviews for Spy Kids: All the Time in the World in 4D
Critic Reviews for Spy Kids: All the Time in the World in 4D
Audience Reviews for Spy Kids: All the Time in the World in 4D
Let's do this backwards:
4-D: The "4th Dimension" - the scratch and sniff cards. Complete and utter FAILURE. Nobody in my theater could smell anything at all except the cardboard it was printed on. We might as well have been sniffing our ticket stubs. Even my daughter, who was quite excited abot the gimmick, gave up by the third "scent", handed me the card, and said "I don't need this - it doesn't work." It was a silly idea to begin with, but something kids might have gotten a kick out of... if it worked... at ALL... which it didn't.

3-D: How about the 3-D? Mostly pointless, but then again most 3-D movies are. My biggest complaint it this: Why bother making a movie 3-D, but only do parts of it? Every live-action 3D movie I've seen including this one have many scenes and shots that aren't even in 3D. You can tell when you can take off your glasses and it's a strictly 2D image. I don't mean just certain whole scenes, but even just shots within a scene. For example within one dialogue scene the 3-D was used on only about every third cut, even if it was more of the same exact shot(?) So not only are they too lazy to shoot it in 3D, but they don't even convert the whole thing.

2D: The movie itself. Harmless, simple fun for the kids, although the actual new Spy Kids don't get to do much until the last third of the movie. The biggest problem: *SPOILER ALERT* was that even from the first trailers it was obvious Jeremy Piven was the villain, much less from every single scene in the movie. Yet they make a big deal of his predictable reveal. Was anyone surprised? *END SPOILER*

All in all what could have been a decent action flick for kids (and a restart to the franchise with new kids) is mostly a dud, due in large part to the heavily promoted "aromascope" gimmick which not only wasn't good.... it didn't even work.
Martin Bishop
Super Reviewer
½
to the same standard as the rest. there were a few plot elements that made no sense, but for kids, the movie was entertaining. not as visually stimulating as the past 3 in the franchise, but overall an average kids flick.
Spy Kids: All the Time in the World in 4D is about a family out to save the world. The plot was good. Acting was good but lacking at times. Action and special effects was really good. The 4d part was not good.
erika bruhns
Super Reviewer
Spy Kids: All the Time in the World in 4D Quotes
| | |
| --- | --- |
| Cecil Wilson: | The dog is talking. |
| | |
| --- | --- |
| Rebecca Wilson: | Good job Cecil! |
| | |
| --- | --- |
| The Timekeeper: | Time flies, when you're having fun. |