La bestia in calore (SS Hell Camp) (SS Experiment Part 2) (The Beast in Heat)
(1977)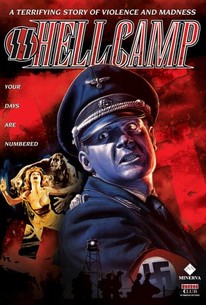 AUDIENCE SCORE
Critic Consensus: No consensus yet.
Movie Info
A beautiful, nefarious senior female SS officer/doctor (Magall) creates a genetic, mutant human Beast (half man/half beast). The Beast is a rapacious, squat, mongoloid sex fiend which she uses to torture and molest female prisoners while the Nazis watch. The vertically challenged beast is kept on a diet of mega-aphrodisiacs.
Critic Reviews for La bestia in calore (SS Hell Camp) (SS Experiment Part 2) (The Beast in Heat)
All Critics (1) | Fresh (0) | Rotten (1)
Nobody involved would have gotten anything worthwhile out of their association with it, save for maybe a swift kick in the shins from every decent person in the world.
Audience Reviews for La bestia in calore (SS Hell Camp) (SS Experiment Part 2) (The Beast in Heat)
My first taste of 'nazisploitation' and it turned out to be just as bad, sleazy and tasteless as I expected it would be. Had this not been a 'video nasty' I never would have been interested to begin with. This particular slice of trash-cinema takes place in nazi occupied Italy during a Partisan uprising against the increasing brutality of a Nazi encampment which has been conducting unsavoury human experiments in its aim of creating a master race. The majority of the films' runtime focuses on the Italian rebels launching attacks and ambushes on Nazi forces, so if you're expecting endless scenes of torture and other gruesomeness you will be left disappointed. Of course there is the expected sex, nudity, rape and other sexual violence which is what caused its banning in the UK and it's unlikely ever to get released in the near future. No gore in this one either sadly, just a couple of brief bloody moments during a torture session at around the one hour mark. The action scenes prove to be the most entertaining parts of the film for all the wrong reasons - they're so lame and cheesy it's hilarious! And the bad English dubbing adds it's own entertainment value. Terrible film overall, but one to have fun with.
I actually watched this in Italian but, since a lot of the dialogue was in what the Super Furry Animals would call the International Language of Screaming, it wasn't difficult to follow. Though badly made, this is quite a nasty little Naziploitation film. Once you've seen Macha Magall it doesn't take a genius to work out who the "Beast in Heat"'s final victim will be, but you may be surprised to notice that 'The Beast' himself bears an uncanny resemblance to Lionel Stander, Max in "Hart To Hart". Terrible!
La bestia in calore (SS Hell Camp) (SS Experiment Part 2) (The Beast in Heat) Quotes
There are no approved quotes yet for this movie.