Stanley Kubrick's Boxes
(2008)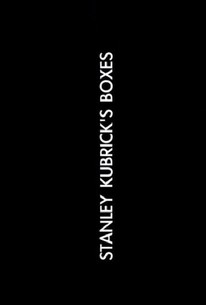 AUDIENCE SCORE
Critic Consensus: No consensus yet.
Stanley Kubrick's Boxes Photos
Movie Info
Filmmaker Stanley Kubrick earned a well-deserved reputation as a painstaking perfectionist who was willing to spend years researching a project and devote just as much time to shooting and editing one of his pictures. Given Kubrick's obsessive attitude about work, it should come as no surprise that the man was loathe to throw anything away, and after he died in 1999, Jon Ronson, a documentary filmmaker who corresponded with Kubrick, discovered the late filmmaker had literally hundreds of cardboard boxes stored at his estate that were stuffed with production notes, research documents, memorabilia, photos, fan mail, reviews and other material he had collected over the years. With the permission of Kubrick's family, Ronson began sorting through the reams of paper the director had saved, and Ronson's research led to the film Stanley Kubrick's Boxes, a documentary which offers a glimpse at Kubrick's informal archive and what it reveals about one of the singular cinematic artists of the 20th Century. Stanley Kubrick's Boxes also includes some rare behind-the-scenes footage of the director at work during the production of Full Metal Jacket, shot by his daughter Vivian Kubrick.
Critic Reviews for Stanley Kubrick's Boxes
Audience Reviews for Stanley Kubrick's Boxes
Shows how obsessive Kubrick was about research. Asides from little amount of actual footage of the man, I found it quite boring.
A fascinating look into the creative process of Kubrick. If you're a fan of his, this documentary will be to your liking. Recommended.
I actually haven't seen this documentary...but I've seen the boxes...and more importantly I've seen inside the boxes. HAHAHAHAHAHAHAHAHAHAHAHA!!!
Ken Stachnik
Super Reviewer
Stanley Kubrick's Boxes Quotes
There are no approved quotes yet for this movie.