Starlet
(2012)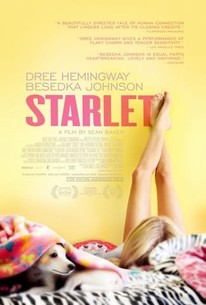 Movie Info
Starlet explores the unlikely friendship between 21 year-old Jane (Dree Hemingway) and 85 year-old Sadie (Besedka Johnson), two women whose worlds collide in California's San Fernando Valley. Jane spends her time getting high with her dysfunctional roommates, Melissa (Stella Maeve) and Mikey (James Ransone), while taking care of her Chihuahua, Starlet. Sadie, an elderly widow, passes her days alone tending to her flower garden. After a confrontation between the two women at Sadie's yard sale, Jane uncovers a hidden stash of money inside a relic from Sadie's past. Jane attempts to befriend the caustic older woman in an effort to solve her dilemma and secrets emerge as their relationship grows. -- (C) Official Site
News & Interviews for Starlet
Critic Reviews for Starlet
Audience Reviews for Starlet
Dree Hemingway delivers a strong performance, and Starlet is overall touching and deep. Though its definitely more fiction than relatable, the film still resonates with you as you care about Jane and Sadie's relationship.
David Jin
½
In "Starlet," Jane(Dree Hemingway) wants to add a few touches to her room, but her housemate Melissa(Stella Maeve) tells her not to get too ambitious because Mikey(James Ransome) might need the space to film occasionally. So, Jane checks out every yard sale in southern California, finding a thermos she plans on converting into a vase. That is until she finds about $10,000 in cash inside. After the obligatory shopping spree, Jane feels bad and tries to return the thermos to Sadie(Besedka Johnson) but cannot quite get the right words out. So, Jane looks for another way to make amends like giving Sadie a ride home from the supermarket. And like the saying goes, no good deed happens without a macing... "Starlet" is an unpredictable, modest and off-beat movie whose humor comes from misperception and preconceptions that even manages to make bingo suspenseful. All of which is centered around a realistic take on the adult film industry that makes it out to be neither good nor bad.(Whether that scene is necessary is debatable. In any case, the film skirts the topic until then.) It just is. The only down side for the performers here is having young women achieve a level of instant fame before they have any idea of the person they will become. Jane is off to a better start than Melissa because she at least thinks about the future and considers other people, even if she makes her share of mistakes when not thinking things through. As far as Sadie goes, not much is really known until that enigmatic final shot.
½
Starlet is about an unlikely friendship forming between 21 year-old Jane and the elderly Sadie after Jane discovers a hidden stash of money inside an object at Sadie's yard sale. I ended up liking this much more than I expected. Much like "Future Weather", Starlet tells a simple story containing more depth than what's on the surface. The unique relationship between two different generation of women interacting with one another is fascinating to witness. These two women have different ideals, personalities, and well rounded relationship that changes both output on life. Not only does it show that porn actors can have a heart, but also the darker side of the industry effecting personal lives. It's solely a film driven by the characters which most are highly developed. I didn't mind spending time with the central characters even if the activities they underwent were ordinary and at times just lingered around without a director. Except one flaw comes from the character of Mikey who's the boyfriend of our protagonist roommate is decidedly one note. Another problem are the supporting characters are simply in service to move to the plot. The film does not focus a huge amount of time on Jane's job only rarely seeing her do any actual work. So for those wanting an in depth look of how a porn actor is affected by their profession look elsewhere. In the end Starlet plot is naturalistic, simple to follow and one requiring a lot of thought the events we witness that what's on the surface. The major upside of this film comes its incredibly talented cast. Dree Hemingway excels in portraying the root of her character. I could imagine other actresses going for a full dramatic take, but would have not been as effective as what Dree Hemingway did. Dree Hemingway is energetic playing a cheerful slacker while handling the duality of her playfulness and lack of maturity when she needs to swift. Besedka Johnson in her first (and last) role will amazed. Johnson has a steady relationship with Hemingway and it very sympathetic without revealing too much in her actions. At first when we see Johnson she's appears as nothing special, but grows on you. The supporting cast is decent and in terms of visuals there is some nice scenery, but nothing to get excited about. Starlet is simplicity in nature, but filled with more depth in execution. Well rounded character portrayed by leads both giving standout performances make the viewing even more engaging. Starlet might not be for everyone due to it simplistic story, but those who see will be rewarded with a deep story under the surface and fine performances.
Caesar Mendez
Super Reviewer
Starlet Quotes
There are no approved quotes yet for this movie.
Discussion Forum
Discuss Starlet on our Movie forum!