Stella Dallas
(1937)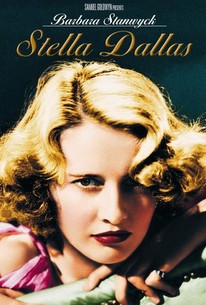 Movie Info
Produced by Sam Goldwyn, this second film version of Olive Higgins Prouty's Stella Dallas is by far the best. The combined talents of Goldwyn, director King Vidor and star Barbara Stanwyck lift this property far above the level of mere soap opera. Stanwyck is perfectly cast as Stella Martin, the loud, vulgar factory-town girl who snares wealthy husband Stephen Dallas (John Boles). When Stephen is offered a job in New York, Stella stays behind, knowing that she'll never be part of her husband's social circle. She pals around platonically with her old beau, the cheap and tasteless Ed Munn (Alan Hale), a fact that drives yet another wedge between Stella and her husband. The final straw is daughter Laurel's (Anne Shirley) birthday party, which is boycotted by the local bluenoses. Though she would like to remain part of her daughter's life, Stella knows that she and she alone is the reason that Laurel is shunned by the rest of the community. ~ Hal Erickson, Rovi
Critic Reviews for Stella Dallas
Audience Reviews for Stella Dallas
Stanwyck was marvelous as Stella Dallas. A role and character that is perfectly matched with Stanwycks loose and and natural way of acting. In an environment where social status dictates modest and appropriate behavior, Stella quickly stands out with her bubbly, impulsive and spontaneous personality. This is also a movie about the love and friendship between a mother and her daughter.
Poor Stella. All she wanted was to fool a rich man into marrying her, so that he might give her the kind of extravagant lifestyle she always knew she deserved. Ordinarily, this would be the happy ending of most of the films from this time period, but in director King Vidor's "Stella Dallas", it's only the beginning of the tale because, what comes after you trick the rich guy into marrying you? Do you maintain your well-crafted ruse, or do you let him see the real you? Do you make any effort to fit into his high social standings, or do you revert to the same old slob you've always been? After Stella (Barbara Stanwyck) marrys the wealthy Mr. Dallas (John Boles), and the two have a child, she decides she wants to have her cake and eat it too. She expects love and admiration from her husband without giving him any love or doing anything admirable; she wants to be a member of high society but has no interest in adapting to it or learning simple good social graces. In fact, the longer the marriage goes on, the less effort Stella puts into it. It's no wonder Mr. Dallas takes that position in New York that keeps him away from home for so much of the year. Their daughter Laurel, is the one thing they see eye-to-eye on. Both agree she needs to be raised as a refined and educated lady. But is that really what Stella wants? Stella comes to depend on Laurel to fulfill all her emotional needs, and that seems like a lot of pressure to put on your child. What happens when Laurel starts living a life that doesn't include mother? "Stella Dallas" is an unusual film for it's time and would certainly be an odd film today. An aimless character like Stella lives an aimless life and in the end doesn't really have anything to show for it. It's a sort of just-comeuppance for someone who isn't really that bad a person (and actually by most standards, is a wonderful, self-sacrificing woman) masquerading as a hard-suffering "woman done wrong"- type of story. There's quite a lot of depth to this film, if one knows what they're looking at.
Devon Bott
Super Reviewer
½
Barbara Stanwyck was amazing in Stella Dallas. She mastered tacky and grotesque magnificently, all the way from her "weight gain" to the final scene. The story didn't blow me away until the last 20 minutes but Stanwyck did such a great job at making you feel more and more uncomfortable in each of her scenes as the movie went on. Stella Dallas is a less nasty Of Human Bondage and a more likable Mildred Pierce, but for as more likable as the main character is in Stella Dallas, the ending did more of a number on me emotionally at the end. Stella Dallas is worth watching for Stanwyck alone, but for as... upsetting as the movie got by the end it falls into only-need-to-see-this-once territory, despite how good it is.
Michael Gildea
Super Reviewer
Stella Dallas Quotes
There are no approved quotes yet for this movie.