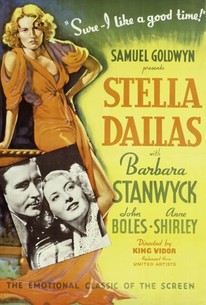 Stella Dallas
1937, Drama, 1h 51m
10 Reviews
1,000+ Ratings
Where to watch
Subscription
Rate And Review
Movie Info
When Stella Martin (Barbara Stanwyck), a working class woman, meets and marries the wealthy Stephen Dallas (John Boles), they quickly have a daughter named Laurel (Anne Shirley). Stella and Stephen struggle to stay happy as their class differences become a problem; when they finally separate, Laurel is caught in the middle of the divorce. Soon, Lauren becomes the center of Stella's life. Stella tries to be a good mother, but realizes that her daughter can flourish quite well without her.
Audience Reviews for Stella Dallas
Barbara Stanwyck in one of her signature roles as a woman aspiring for a better station in life and, unable to obtain it for herself, sacrifices everything for her daughter. One of the all-time weepies, the great character actor Alan Hale is convincingly pivotal in the difficult role as the "uncle" in the tale. This story of motherly saintliness might lean into the unbelievable side, but woman have embraced it as one of their own since it first came out.

This type of film which depicts a woman who doesn't quite measure up to the social status of her man is too often the subject of films but Stanwyck's abilities make this a unique and rewarding offering.

Barbara Motherfucking Stanwyck.

Poor Stella. All she wanted was to fool a rich man into marrying her, so that he might give her the kind of extravagant lifestyle she always knew she deserved. Ordinarily, this would be the happy ending of most of the films from this time period, but in director King Vidor's "Stella Dallas", it's only the beginning of the tale because, what comes after you trick the rich guy into marrying you? Do you maintain your well-crafted ruse, or do you let him see the real you? Do you make any effort to fit into his high social standings, or do you revert to the same old slob you've always been? After Stella (Barbara Stanwyck) marrys the wealthy Mr. Dallas (John Boles), and the two have a child, she decides she wants to have her cake and eat it too. She expects love and admiration from her husband without giving him any love or doing anything admirable; she wants to be a member of high society but has no interest in adapting to it or learning simple good social graces. In fact, the longer the marriage goes on, the less effort Stella puts into it. It's no wonder Mr. Dallas takes that position in New York that keeps him away from home for so much of the year. Their daughter Laurel, is the one thing they see eye-to-eye on. Both agree she needs to be raised as a refined and educated lady. But is that really what Stella wants? Stella comes to depend on Laurel to fulfill all her emotional needs, and that seems like a lot of pressure to put on your child. What happens when Laurel starts living a life that doesn't include mother? "Stella Dallas" is an unusual film for it's time and would certainly be an odd film today. An aimless character like Stella lives an aimless life and in the end doesn't really have anything to show for it. It's a sort of just-comeuppance for someone who isn't really that bad a person (and actually by most standards, is a wonderful, self-sacrificing woman) masquerading as a hard-suffering "woman done wrong"- type of story. There's quite a lot of depth to this film, if one knows what they're looking at.
See Details