Still Bill
(2010)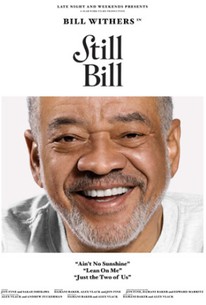 Movie Info
STILL BILL is an intimate portrait of soul legend Bill Withers, best known for his classics "Ain't No Sunshine," "Lean On Me," "Lovely Day," "Grandma's Hands," and "Just the Two of Us." With his soulful delivery and warm, heartfelt sincerity, Withers has written the songs that have - and always will - resonate deeply within the fabric of our times.Filmmakers Damani Baker and Alex Vlack follow Withers and offer a unique and rare look inside the world of this fascinating man. Through concert footage, journeys to his birthplace, interviews with music legends, his family and closest friends, STILL BILL presents the story of an artist who has written some of the most beloved songs in our time and who truly understands the heart and soul of a man.--© Official Site
Critic Reviews for Still Bill
Audience Reviews for Still Bill
½
There exists a rather tired bit of popular slang: "keeping it real". Well I'm here to tell you that through this documentary you get to see a genuine person - no b.s., no window dressing - just a real, genuine person who knows who he is and doesn't make apologies. For the uninitiated, Still Bill is about Bill Withers, a multi genre singer/songwriter who had several very large hits and then, in the middle of his fame, chose to simply walk away... not from music, but the music business. At the time of the filming Bill celebrated his 70th birthday, and we find that he is just as fresh and real as he was when he, as he put it, told the "blacksperts" to shove it. We get to see him revisit his old home town - a mining town (in other words, everything there, the buildings and the stores, were all owned by the mining company) - just walking about with an old school chum and talking of the relevance of a time and place, and how that time and place should and does resonate and form a great deal of your persona. There is also a good deal of archival footage, live performances from the 70's along with interviews from that period that show Bill just being Bill. Along the way we also see some recent "guest" appearances with various musicians and a very interesting chat with renowned thinker Cornell West. We also see that he is still creating music, from working songs with his daughter to an informal jam session with a blind Latin music virtuoso who, when he mentions that he is "disabled", Bill corrects him and tells him that he is "enabled". Really, this is a guy you'd just want to sit down and chat with, and through the documentary you really get the sense that why his music was popular, was because he was able to channel who he was into every syllable of lyric and every chord he played. If you are unfamiliar with his body of work, here's just a short list: Ain't No Sunshine, Just The Two of Us (with great sax work by the late Grover Washington), Use Me, Lean on Me, Lovely Day, Who Is He (and what is he to you?), and Grandma's Hands. Check it out, you'll be glad you did.
paul sandberg
Super Reviewer
The simple glimpse into his life was interesting enough for this man who wrote "Lean on Me", "Ain't No Sunshine", "Use Me" and many more. I really did not remember who Bill Withers was and watched this movie on a recommendation/lark, but after watching it I will never forget him. Like his songs his words are eloquent in their simplicity. Unlike many musicians Bill is educated and had lived a full life before taking-up music a 32 Yrs old. From his musical beginnings to dropping out of the scene to raise his children he was unwavering in focus and would not let the music industry define him and his music.
Bill Cavros
Super Reviewer
½
If you don't get goosebumps watching Bill Withers cry, then you're not a human. A slight, but powerful documentary. I wish Withers would come back and make an album like Gil Scott-Heron, and show musicians what they're missing. A must for Withers' fans.
matt sigur
Super Reviewer
Still Bill Quotes
There are no approved quotes yet for this movie.