The Story of Robin Hood and His Merrie Men
(1952)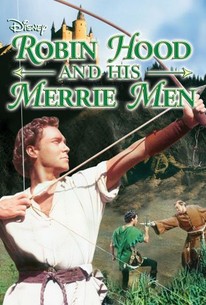 AUDIENCE SCORE
Critic Consensus: No consensus yet.
The Story of Robin Hood and His Merrie Men Photos
Movie Info
Better known as The Story of Robin Hood, this colorful costume adventure was the second made-in-Britain production for Hollywood's Walt Disney. Avoiding the familiar episodes covered in previous "Robin Hood" films, this Disney effort still manages to adhere to the basic chronology. Richard Todd stars as the Earl of Huntington, who loses his title and his lands after besting the despotic Sheriff of Nottingham (Peter Finch) at an archery tournament. Reinventing himself as Robin Hood, our hero rounds up other victims of the oppression of the Sheriff and his dictatorial liege Prince John (Hubert Gregg), and thus the "Merry Men" are born. Robbing the rich to give to the poor, Robin manages to elude the villains and to prove his loyalty to John's brother Richard the Lionhearted (Patrick Barr) by raising the money for Richard's ransom. The Queen (Martita Hunt) is to deliver the ransom to Richard's Austrian captors, but Prince John schemes to steal the money and place the blame on Robin Hood. Maid Marian (Joan Rice) gets wind of this plan but is locked in John's dungeon before she can warn Robin and his men. How can virtue triumph with these odds? But triumph it does, as everyone in the audience knew it would. The success of The Story of Robin Hood inspired Disney to produce two additional British films, The Sword and the Rose and Rob Roy, the Highland Rogue.
Critic Reviews for The Story of Robin Hood and His Merrie Men
Audience Reviews for The Story of Robin Hood and His Merrie Men
½
One of the best renditions of the Robin Hood Legend, second only to The Errol Flynn version.
½
It's not bad, but it was a pointless movie to make. It doesn't improve on Errol Flynn's version at all, in fact it's inferior. I think it's a little bit more kid friendly, but that's about it. The acting was so-so and the story flows about as good as it can. Overall, it's better than the Kevin Costner version, but that's something not too hard to achieve.
Conner Rainwater
Super Reviewer
The Story of Robin Hood and His Merrie Men Quotes
There are no approved quotes yet for this movie.