Strait-Jacket
(1964)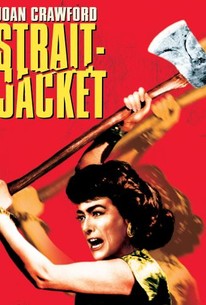 Movie Info
In this chilling blood-tale in "Psycho" style, Robert Bloch modernizes the Lizzy Borden story. A wife (Joan Crawford) literally axes her cheating husband and his lover, witnessed by her three-year-old daughter. Mom is packed off to the insane asylum for 20 years before reuniting with the daughter (Diane Baker). From this point, the axe murders continue along a contrived plot intended to lead the audience astray until the mystery is solved. Crawford's strong performance and the excellently constructed suspense are the best elements of the film -- and the chopping saves the show when the plot tends to slow.
Critic Reviews for Strait-Jacket
Audience Reviews for Strait-Jacket
This is a fun murder mystery, you think you know what's going on, but it surprises you. I really liked it.
One of the top 5 William Castle films? Could be number one actually.
Tim Salmons
Super Reviewer
omg hilarious. actually i felt a little sorry for joan. this is what happened to female stars who were considered too old to play romantic leads. i would love to own this poster tho :p
Stella Dallas
Super Reviewer
Strait-Jacket Quotes
There are no approved quotes yet for this movie.