Stripped
(2002)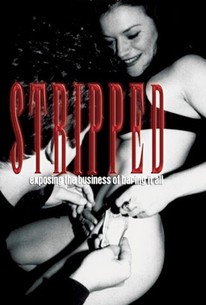 Movie Info
Playwright Jill Morley worked as a dancer at a low-rent strip club in New Jersey before her drama +The True Adventures of a Go-Go Girl became an off-Broadway success. Eager to allow others to see the gritty realities of a stripper's life, rather than the glossy melodramatics of most fictional films on the subject, Morley directed the documentary Stripped, in which she introduces audiences to four women who worked the club scene with her during her lean years. Each woman has her own reasons for working as a stripper; Vicky, who was taunted for her looks as a teenager, used her income as a dancer to pay for plastic surgery (and cover other medical bills), which she claims has boosted her self-esteem. Billie wants a career as an actress and views stripping as a way to pay the bills while she goes on auditions and tries to get her foot in the door. Angela is a struggling artist trying to finance her career however she can. And Susan is a single mother with a family to support who dances to pull herself out of debt. These strippers don't get rich off of their work (they might make $200 on a better-than-average night), and most feel a certain amount of shame, anger, or regret about their work. Stripped received an enthusiastic reception in its screening at the 2001 Santa Barbara Film Festival.
Critic Reviews for Stripped
All Critics (5) | Top Critics (3) | Fresh (3) | Rotten (2) | DVD (1)
Far from sleek and polished, in the manner of HBO, but it's much the better for it. Ms. Morley leaves in her contradictions and loose ends, where a more 'professional' approach to this material would probably try to obscure them behind slick graphics.
August 8, 2002 | Rating: 4/5

Self-involved, amateurish, and unoriginal doc.
August 6, 2002

There are no stunning revelations herein, but then, that's not why you're going to go see it, is it?
August 30, 2002
Audience Reviews for Stripped
Enjoyable 90's doco with a really sad ending for two of the ladies.
Nicki Marie
Super Reviewer
Stripped Quotes
There are no approved quotes yet for this movie.