Summer Love (Dead Man's Bounty)
(2007)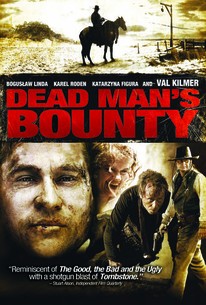 Summer Love (Dead Man's Bounty) Photos
Movie Info
Val Kilmer stars as the corpse of a wanted man in this western exploring the greed and iniquity of the lawless frontier. When a stranger rides into a small town toting the lifeless body of a noted outlaw, his intentions are to collect the bounty and be on his way. But the situation becomes complicated when the stranger sits down for a high-stakes card game with the drunken sheriff. With nothing to wager but the body he arrived with, the stranger calls the sheriff's bluff and goes all in. Later, despite the fact that he lost the game, the stranger vows to keep the corpse at all costs.
News & Interviews for Summer Love (Dead Man's Bounty)
Critic Reviews for Summer Love (Dead Man's Bounty)
Audience Reviews for Summer Love (Dead Man's Bounty)
Summer Love (Aka Dead Man's Bounty) (2007) ?? Atrocious, smarmy Western about a silent drifter who arrives in greasy town where he is instantly--for no reason--picked on. He causes trouble and has the "law" chase him. You know where this is going. All that's missing is a lot of gratuitous sex with dozens of shots of full-frontal female nudity (Oh, wait. No, check), animal cruelty (check), about 30 or so bloody shootouts (check), and a "poetic" ending (double check). Quite possibly the worst movie ever made involving a horse. One merit: Sleazy bounty hunters with lots of hilariously awful dialogue. Where's Mr. Wayne or Mr. Eastwood when you need them the most!?
Tanner Bartko
Ok, I'm trying to be honest. Love when good modern Western films come out. Love the genre, the costuming, and weapons. Love the badass characters. This film has them all but it's just plain strange. Almost too strange for me to understand. Will require more viewings to figure it out. Val Kilmer is in the movie but trust me, he doesn't do much and his part could've been played by anyone.
John Redshaw
What the.... did i just watch? Give me hot pokers to the eye. This will have to be the worst movie I have seen., Words escape me.
Barbara Fite
Summer Love (Dead Man's Bounty) Quotes
There are no approved quotes yet for this movie.
Discussion Forum
Discuss Summer Love (Dead Man's Bounty) on our Movie forum!