Sunset Story
(2003)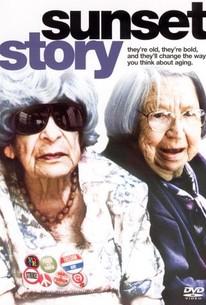 Movie Info
Sunset Hall is a managed care facility for the aging with a difference; located in Los Angeles, Sunset Hall is described by its proprietors as "a nonprofit retirement home for free-thinking elders," and Sunset is home to a group of elderly residents who haven't allowed their years and their infirmity to quiet their voices or their consciences. Sunset Story is a documentary about the residents of Sunset Hall, in particular two recent arrivals, 95-year-old Lucille Alpert and 81-year-old Irja Lloyd, who become fast friends. While Lloyd has been confined to a wheelchair following a major heart attack, with the help of Alpert, the two frequently participate in political demonstrations (the staff often organizes field trips around activist opportunities) and frequently debate the issues of the day with Lloyd frequently taking a more optimistic viewpoint and Alpert displaying a greater cynicism. Sunset Story received an enthusiastic reception when it premiered at the 2003 Los Angeles Film Festival.
Critic Reviews for Sunset Story
Audience Reviews for Sunset Story
½
My French teacher in high school, who by the way eerily resembled Audrey Hepburn at her peak, once told us that as we grow older we would only get more conservative. I'm now 36 which I think is how old she was when she told us that. I'm not getting any more conservative by the way. Which brings me to... [color=green]"Sunset Story" is a funny and touching documentary about two friends in a retirement home named Lucille Alpert and Irja Lloyd. The retirement home, Sunset Hall, is specially reserved for retirees of a progressive bent and Lloyd and Alpert continue to go to protests for various causes and discuss various issues. They are an inspiration to those of us of a younger generation that you can never be to old to be politcally active.(This documentary got me thinking of John Sayles' short story "The Anarchist's Convention.")[/color] [color=#008000][/color] [color=navy][/color] [color=navy]You know that old saying about a photograph equaling a thousand words..."Cinevardaphoto" is a triptych of short documentaries by Agnes Varda, each focusing on photography. [/color] [color=navy][/color] [color=navy]"Ydessa, the bears and etc..."(2004) is about an exhibit of photos of teddy bears in Munich, which starts innocent and gets rather more disturbing as we proceed through the exhibit. It is also an interesting look at the way people proceed through an art exhibit. What they see and what they do not see, is quite important and thought provoking.[/color] [color=navy][/color] [color=navy]"Ulysse"(1982) is about a photograph taken in 1954 containing a naked man, a naked boy and a naked dead goat. And it reexamines the memories of the people involved and what they were doing 28 years later. Well, the dead goat is not doing that well...[/color] [color=navy][/color] [color=navy]"Salut les Cubains"(1963) is a photomontage of photographs taken from a recent visit to Cuba in the aftermath of the Cuban revolution. In it we get a history lesson and a rare view into the country and the Cuban people as it was then.[/color] [color=navy][/color] [color=navy]All three documentaries taken together are endlessly fascinating. They are shown in the chronological order of the photographs taken - The teddy bear photographs are taken mostly before World War II, Ulysse's photograph was taken in 1954 and the Cuban photographs were taken in 1963. [/color]
Sunset Story Quotes
There are no approved quotes yet for this movie.