Super Duper Alice Cooper
(2014)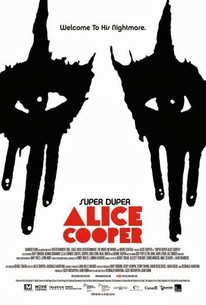 Super Duper Alice Cooper Photos
Movie Info
Super Duper Alice Cooper is the twisted tale of a teenage Dr Jekyll whose rock n roll Mr Hyde almost kills him. It is the story of Vincent Furnier, preacher's son, who struck fear into the hearts of parents as Alice Cooper, the ultimate rock star of the bizarre. From the advent of Alice as front man for a group of Phoenix freaks in the 60s to the hazy decadence of celebrity in the 70s to his triumphant comeback as 80s glam metal godfather, we will watch as Alice and Vincent battle for each others' souls. The is the first ever 'doc opera' - a dizzying blend of documentary archive footage, animation and rock opera that will cement forever the legend of Alice Cooper.
Critic Reviews for Super Duper Alice Cooper
Audience Reviews for Super Duper Alice Cooper
Telling Alice Cooper's story through archival footage of his career, Scott McFadyen directs a very good documentary about this iconic rock singer. The narration is terrific, and the way the archival footage is put together is what makes this film unique. This is a very different documentary in the regard, and it's engaging in a way, while keeping you intrigued because the footage is terrific, and it shows the rise of Alice Cooper as a hard rock, heavy metal icon. From his rise to his bout with addiction to his recovery, Super Duper Alice Cooper is an accomplished film, one that should be seen by Cooper's fans as well as metal and rock fans alike. What makes this film different than most documentaries is the fact that, like I said earlier, uses archival footage, pictures to tell the story of Alice Cooper, some viewers may find this one a bit odd, due to the fact that it's a story told exclusively with archive footage. Nonetheless to those looking for a well crafted film about a rock legend, Super Duper Alice Cooper is a fine film worth seeing if you enjoy the genre of music documentaries and are a fan of Alice Cooper. What makes Alice Cooper standout in the rock/heavy metal world is the fact that he is one of the most down to earth musicians in the genre, and for that he is also one of the most respected. I recommend this standout film, and though it's a bit different, the insightful narration from many renowned musicians and Alice himself makes this a highly entertaining experience and it takes a candid look at the career of one of metal and rock's finest entertainers.
Super Duper Alice Cooper Quotes
There are no approved quotes yet for this movie.