Table for Five
(1983)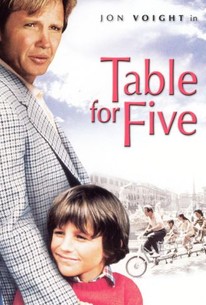 Movie Info
Taking his children on a Mediterranean cruise, biological father J.P. Tanner attempts to make up for the three years he neglected them. When his ex-wife, Kathleen, dies in a car wreck, the children's step-father, Mitchell, has to fight to get them back. Performances by Richard Crenna, Kevin Costner, Millie Perkins and Roxana Zal, among others, effectively contribute to this sentimental story of custodial rights. Filmed aboard the SS Vistafjord during an actual cruise, viewers can catch a few scenes of stop-overs in Cairo, Rome, and Athens.
Critic Reviews for Table for Five
All Critics (5) | Fresh (3) | Rotten (2)
A pair of seriously solid performances from both leading men, but Table for Five doesn't contain much sincerity beneath the surface.
Audience Reviews for Table for Five
Tearjerker. Very well written and directed by Robert Lieberman, this is a touching story of a father trying to rekindle his relationship with his children by taking them on a cruise to the beautiful countries of Athens, Rome, Greece, Italy and Cairo, Egypt. Jon Voight plays the father that tries to reach out to his children but finds out, he doesn't know how to connect with them. I couldn't stop crying at some parts of the movie due to some very emotional and touching scenes. You will not be disappointed with this drama. A must see.
Donna Dawson
Super Reviewer
Table for Five Quotes
There are no approved quotes yet for this movie.