Tabloid
(2011)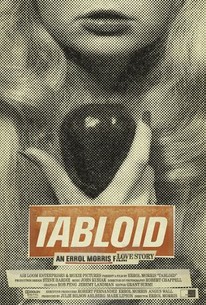 TOMATOMETER
AUDIENCE SCORE
Critic Consensus: It's far from his most thought-provoking work, but Tabloid finds Errol Morris as smart, spirited, and engaging as ever.
Movie Info
Thirty years before the antics of Lindsay Lohan and Britney Spears were regular gossip fodder, Miss Wyoming Joyce McKinney made her mark as a tabloid staple ne plus ultra. Morris follows the salacious adventures of this beauty queen with an IQ of 168 whose single-minded devotion to the man of her dreams leads her across the globe, into jail, and onto the front page. Joyce's labyrinthine crusade for love takes her through a surreal world of kidnapping, manacled Mormons, risqué photography, magic underwear, and celestial sex-until her dream is finally realized in a cloning laboratory in Seoul, South Korea. By turns funny, strange, and disturbing, Tabloid is a vivid portrayal of a phenomenally driven woman whose romantic obsessions and delusions catapult her over the edge into scandal sheet notoriety and an unimaginable life. -- (C) IFC Films
News & Interviews for Tabloid
Critic Reviews for Tabloid
Audience Reviews for Tabloid
"Tabloid" is an invasive, if underwhelming, character study that follows the life of Joyce McKinney, a former beauty queen with a genius IQ and a penchant for histrionics. While Joyce McKinney is undoubtedly an interesting subject for this taboo documentary, the execution of Errol Morris is left wanting. The title of the film is misleading, since most of the focus lies on Joyce, and little to do with the actual media, or tabloids. Most of the film concerns cartoonish recreations of the alleged events, and interviews with McKinney and her accomplices. Her victim doesn't give his two cents, and the message of the film is very up in the air. Is Morris trying to say something about media, about the antics of this beautiful kidnapper, or is he simply displaying her for the audience to ooh and aah over? McKinney's story is interesting, but this would have worked just as well as a "Where Are They Now?" article, or as a book. This medium really wasn't necessary to express the trivialities of a former criminal even if she is entertaining to watch.
Spencer S.
Super Reviewer
"As Brigitte Bardot said, I gave my youth to men and my old age to dogs I can trust." A documentary on a former Miss Wyoming who is charged with abducting and imprisoning a young Mormon Missionary.
REVIEW
Joyce McKinney was former Miss Wyoming. She became a British tabloid darling in the late 1970's when she came over to the UK and kidnapped a young man, holding him hostage. The film tells the story of McKinney's various obsessions; she became obsessed with a young Mormon missionary, but his faith was compromised and, as far as Joyce was concerned, the Mormon church stole him away from her, taking him to England to restore his faith. The levels of obsession are exposed progressively throughout the film. Joyce's fixation on this one person who she claims to love unconditionally is actually quite sad. She states late on in the film that there is only one love, and she loves the Mormon, and will love no other. This stubborn focus on one love has seen through to her old age, as she fills this love with a dog. The obsession of one love is also propagated in her love of her dog, that once dead, she spends thousands of dollars to get it cloned in South Korea. As with all Morris documentaries, this is a little gem, and is never outwardly judgemental of it's subject matter. It is a tragic tale, and whilst it has been Joyce's own choice, her strong morals are quite touching. However, strip all sympathy aside, and she is simply mental!
Lorenzo von Matterhorn
Super Reviewer
½
Usually in a documentary the director slants the facts to suit an agenda; either by judicious editing of talking head testimony, or by omitting certain facts. In the case of Tabloid, you have a refreshing expose of events portrayed through the usual witness testimonies, but with a certain lightness and tongue in cheek that is totally apropos to the bizarre content being reported. Tabloid tell the sensational tale of Joyce McKinney, who was a tabloid sensation in the UK back in the 70's by "allegedly" kidnapping a Mormon acolyte for a weekend of debauchery. Director Errol Morris masterfully reveals the story by way of talking heads, including the editor of one of England's top tabloid newspapers of the time as well as Ms. McKinney herself (a natural born actress if ever there was one). She plays fast and loose with a lot of information, all told with a certain happy-go-lucky bit of glee; a raconteur who you could listen to for hours, even while telling of her temporary imprisonment and eventual escape from the British Isles. For his part, the Brit editor seems equally caught up in the outrageousness of the story, and uses several lovely English colloquialisms to further lighten up the festivities. But underneath it all there is a dark side - that of the beginnings of media sensationalism - the likes of which give the Paris Hilton's of the world constant attention, even though they have done absolutely nothing noteworthy. In the case of Ms. McKinney, what should have been a simple human interest story, barely worthy of Andy Warhol's' 15 minutes of fame, became the story that refused to die. The big question is whether McKinney, who "admits" to an I.Q. of 168, and was a former Miss Wyoming, was simply trying to pry her man from the clutches of the evil Mormon church by kidnapping the elder in training, or if, as she professes in lovely detail, he came with her willingly and then, facing excommunication, claimed to be a victim. The story should have ended after the trial and her release on bail before sentencing, after her daring incognito escape from Britain, but, just as the media wouldn't let go of her initial story, the film goes further, introducing the head photographer from the rival tabloid, The Mirror, who purports that McKinney spent time in LA as a call girl. This part of the film drags just a bit, but gives you the necessary doubt that all isn't as Ms. McKinney would have you believe. After scandalous nudie pics start getting plastered all over the front page of The Mirror, pics that McKinney claims were composites (her head on another body - and believe what you will on that one), she retreats to a remote farm, trying to steer clear of the paparazzi and becoming agoraphobic (she claims). This of course leads to a further bizarre tale circa mid 80's where she buys a huge mastiff for protection, the dog is poisoned, the pharmacy messes with the doses of the poor dogs medicine, causing the dog to go bonkers and attack McKinney, and almost killing her (saved only by a pit bull stray she had picked up only a month earlier). This crazy tale just keeps on going, with McKinney then, years later, making contact with a South Korean geneticist who then clones her beloved pit bull. News of the event once again, of course, puts her back in the limelight. A crazy tale, told exceedingly well - a wild ride that's interesting and just plain fun. Probably the most fun I've had watching a doc ever - highly recommended.
paul sandberg
Super Reviewer
Tabloid Quotes
| | |
| --- | --- |
| Joyce McKinney: | Worms crawl out of the woodwork when you become famous. |
| | |
| --- | --- |
| Joyce McKinney: | It's like putting a marshmallow in a parking meter. |