Tae Guk Gi: The Brotherhood of War
(2004)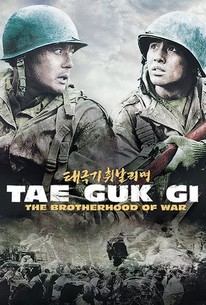 Tae Guk Gi: The Brotherhood of War Photos
Movie Info
Korea's leading filmmaker, Kang Je-gyu, directed this epic-scale drama focusing on two brothers caught up in the madness of the war that tore their nation apart in the early '50s. Jin-seok Lee (Weon Bin) is a bright and well-educated young man whose older and more physically imposing brother Jin-tae Lee (Jang Dong-gun) believes he represents the best hope for his family's future. When both Jin-seok and Jin-tae are called up to fight in the South Korean army following the advance of Communist forces, a wary Jin-tae cuts a deal with his commanding officer -- if he racks up an impressive enough record on the battlefield, the army will give Jin-seok an early release. Jin-tae proves to be a fearless soldier, and is soon recognized as a war hero, but as the conflict wears on, he develops an unhealthy enthusiasm for the violence of the battlefield, and Jin-seok finds himself questioning his big brother's actions, both as a soldier and as a member of his family. The title Tae Guk Gi: The Brotherhood of War refers to the Korean name for the South Korean flag, originally designed in 1876 but outlawed during Japanese rule of the nation, and restored to use in 1948. ~ Mark Deming, Rovi
Critic Reviews for Tae Guk Gi: The Brotherhood of War
Audience Reviews for Tae Guk Gi: The Brotherhood of War
½
The action is probably more intense than Saving Private Ryan and that means something! The story progresses from a slow beginning to an epic finale that might bring some to tears. Well worth watching!
Let's be real; Saving Private Ryan is a better movie then Tae Guk Gi. This is movie tries too hard to be exactly like Saving Private Ryan- the action, the cinematography, the camera work... But behind all the technicalities comes a very moving and powerful character-driven story that is more riveting then Saving Private Ryan. In comparison to the incredibly gritty "Saving Private Ryan", Tae Guk Gi is more of a blockbuster movie that has more stylized action and drama. Still, this is a must watch.
Albert Kim
Super Reviewer
½
I'd never have taken notice of the movie had it not been from the Oldboy director. I've no intention to patronize him, but he's done an outstanding job. His execution of one of the scenes still amazes me. It matched my facial expressions exactly with that of the character for that scene. This has been a unique experience for me. The movie depicts ups and downs between two brothers who are forced to draft in the 1950 Korean war. It shows how the priorities of one brother change momentarily as he gets to taste some fame, and its terrible outcome before he can snap out of it. While it's not yet-another-war-film IMO (of course, there are few familiar zones), it's certainly no masterpiece. The movie has its moments and is worth a watch if you can sit through scenes of guts falling out literally (on-screen). After all, although brotherhood is its heart and soul, it's also a war film to an extent.
familiar stranger
Super Reviewer
Tae Guk Gi: The Brotherhood of War Quotes