Tag (Riaru Onigokko)
(2015)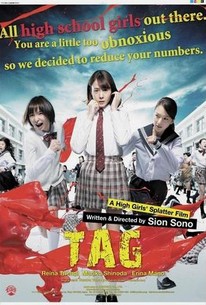 Critic Reviews for Tag (Riaru Onigokko)
Audience Reviews for Tag (Riaru Onigokko)
½
What a weird, weird Japanese movie. Then again, is there any other kind?? Seriously though, Sion Sono has pretty much based his entire career on making some really strange movies. That's not all he's done, of course, since he's branched out to other genres, but his most-known works are Love Exposure, Suicide Club, Noriko's Dinner Table, Cold Fish, Why Don't You Play in Hell, among others. Out of those four mentioned, the only one I haven't seen is Love Exposure. And out of the others mention the only one I haven't liked was Noriko's Dinner Table. I felt it was much too self-serving to be a truly good movie. But that's neither here nor there, it's been a while since I've seen a Sono movie and it's plain to see that he has not his knack for making films that defy simple classification. If there was a way I could describe this movie would be like a weirdly Japanese version of Quantum Leap as the story looks at Mitsuko's jump from alternate universe to alternate universe where, no matter what she does, everyone there meets an incredibly violent end. And even then doesn't really even accurately describe what the movie ends up becoming, once you get to the third act and Mitsuko finds out the origin of her existence. The film contains themes of existentialism and identity and it explores these themes in an over-the-top and absurd fashion. Perhaps one of the things that you notice a lot right at the start is how many upskirt shots there are of the schoolgirls. And not to mention the entire wedding scene where all of the guests, women naturally, start stripping down to their bra and panties. I almost hate to say more, since it would, pretty much, spoil the ending/twist at the end. Though I think more observant viewers will pick up on...certain missing elements that should be there. I think that's all I'm gonna be able to say without really ruining the movie. I will say one thing and that is that, to me, as absurd and surreal as the film can be, I don't think it's ever a movie that embraces the surreal for no reason. Everything here serves a purpose and that is to get Mitsuko out of this dream-like state to stop this endless cycle of mindless violence. I think it's an interesting concept in that this keeps happening, seemingly, on an endless loop and all of the same girls keep doing over and over and over again. To the point where they're just sick and tired of it and they realize that their only chance to stop this is to help Mitsuko on her journey. Now that I've gone through this, I don't think I've made one thing clear. And that one thing is whether or not I liked the movie. I'll be honest, I actually really enjoyed this movie. I was enjoying it as a weird, strange and surreal Japanese movie. But, in my opinion, the climax does make the movie even better. The reason I say that is that it does touch upon some very real ideas of wish fulfillment taken to an extreme. Fan service also comes to mind when I think of that. That's all I'm gonna say here since, again, I don't really wanna spoil the movie. The point I'm trying to make is that, even though they go to some strange places, I feel that there's a purpose and a reason behind it all. And that makes a good movie, to me, even better. Can't say that it's perfect, naturally, since, after the initial accident with everyone getting their top halves cut off by the killer wind, there's a lot of dead air between the next 'incident'. And I get that you're introducing new characters essential to moving the story forward in these scenes, but you could have still sped it up somewhat. That might be the only complaint I have regarding this movie. It's obviously gonna be an acquired taste compared to something like a, I don't know, Guardians of the Galaxy or something, but it's a really good movie nonetheless. I'd recommend it if you're in the mood for something weirdly comedic, surreal and over-the-top.
Jesse Ortega
Super Reviewer
½
Couldn't explain this one if I tried.
Nicki Marie
Super Reviewer
Tag (Riaru Onigokko) Quotes
There are no approved quotes yet for this movie.