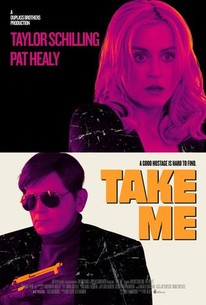 Take Me
2017, Comedy, 1h 24m
23 Reviews
250+ Ratings
Where to watch
Rent/buy
Subscription
Rent/buy
Rent/buy
Rate And Review
Movie Info
Ray Moody is a fledgling entrepreneur who is trying to get his company off the ground in Los Angeles. His business: the niche Kidnap Solutions, LLC, specializing in abductions that provide alternative therapy for his clients. When a mysterious caller contracts him for a weekend kidnapping, with a handsome payday at the end, Ray jumps at the opportunity. But the job and his target - business consultant Anna St. Blair - may not be all that they seem.
Genre: Comedy

Original Language: English

Director: Pat Healy

Producer: Mel Eslyn, Sev Ohanian

Writer: Mike Makowsky

Release Date (Theaters): limited

Release Date (Streaming):

Box Office (Gross USA): $2.6K

Runtime:

Distributor: The Orchard
News & Interviews for Take Me
Audience Reviews for Take Me
Honestly keeps you wondering even while the credits roll. And while Take Me might not be great, it's a rare movie that can do that.

For a short running it does full a hell a lot longer!

I've often wondered, if I ever made a film, what it would look like. I mentioned this in my review of The Sighting some months ago (review I may post on Letterboxd, who knows?). I came to the conclusion that it'd probably be a terrible movie, but one that I would make with a lot of love. Now that we've discussed that, however, I've also wondered what actors I would cast in which roles. If I made a career out of this, I'd want to work with a bunch of the same people. One of those people that would always find his way into one of my movies (in my hypothetical scenario where I'm a world-famous filmmaker) would be Pat Healy. Pat is such a damn great character actor and he is, pretty much, able to do absolutely anything you give him. I think that range is what makes him so valuable to independent filmmakers. They know that they can push him into different, unexplored areas (for him at least) and that he'll always deliver the goods. I was interested in this movie mostly because of its concept, it's pretty damn good, a fake kidnapping business meant to help people with whatever issues they may be facing. I felt that this concept would make for some interesting scenarios between Ray and the woman who hired him to kidnap her for the entire weekend. Pat Healy has worked with a whole host of independent filmmakers, so I'm sure he's obviously has learnt a lot throughout the years to help him make this flick. As far as what I thought about the movie, eh, I don't know. Don't get me wrong, I would say that this was a pretty good little movie. Pat Healy and Taylor Schilling are pretty damn great together and, if anything, they are responsible for pushing this film into the good category. The problem I seem to have is that, with a concept as intriguing as this, the film ends up feeling a little tame when you think about how far they could have actually taken things. I thought the first chunk of the film, with Ray being contracted by Anna and the initial kidnapping/interrogation itself, were pretty great. It's certainly a bit self-referential. Not that they make comments about the situation they're in. What I mean is that these two people, at least initially, are very clearly pretending to play these roles that have been designed for them by Ray. I think this is where the film really is at its funniest. The situation becomes a bit complicated once Ray realizes that Anna has been set-up by someone else. Anna is a top executive at the company she works for and she was meant to deliver a keynote speech at this event, so people are certainly gonna notice if she goes missing. This is where the film loses a little bit of steam. Not that it's ever bad, but, as I mentioned earlier, the concept is ripe for craziness. Particularly if you start involving other people into the film. And I get that the film wanted to focus on these two characters and how the dynamics change once Ray realizes that he's in over his head with this situation. Another problem I felt was the fact that, even as things change and Ray finds himself in situations he didn't anticipate, it never once feels like Anna is genuine about what she's saying, that someone set them up. It always feels like Anna just really wanted the complete and total experience of what it would feel like to be kidnapped. The story wants to play with those concepts, in that you don't know who to believe or if Anna is sincere or not, but I never once bought into it. And I think that's really the main problem. I was never convinced that any of this was anything other than just a simulation. A simulation that, really, Anna was in control of the entire time, but a simulation nonetheless. Maybe it worked for other people, but it just didn't do much for me. I do like the characters and, again, how the dynamics shift with the role reversal at the end and whatnot. The characters are very well-written and, as I already mentioned, Pat Healy and Taylor Schilling are great together. I just wish they embraced the craziness that they could have drawn from this concept a bit more. I don't wanna say that the pacing drags, since this is only 80 minutes long, but there are some scenes that could have been shortened up. Don't really have anything else to say, honestly. This is a good movie, yes, and it's another feather in the cap of Netflix (since they get another quality movie for their site). But it's a movie whose flaws keep it from fulfilling its full potential. Though I'm able to overlook a lot of those flaws since this is Pat Healy's directorial debut. He will only get better with his next film and I eagerly look forward to what he has in store for us next. In all, I thought this was good, but I wasn't in love with it.
See Details