Take Out
(2004)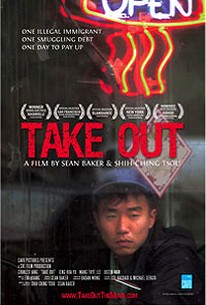 Movie Info
Sean Baker and Shih-Ching Tsou make their feature debut as writer/directors with the documentary-style DV drama Take Out. Korean-American actor Charles Jang stars as Ming Ding, a Chinese illegal immigrant struggling to make ends meet working as a deliveryman at a take-out restaurant. His day begins when he is rousted, beaten, and threatened with more violence by two men over an 800-dollar debt, which he incurred because he felt obligated to send some money back to his wife and child in China. Ming scrapes together what he can. His co-worker, Young (Jeng-Hua Yu), lends him some money, and offers to forgo his deliveries for the day so Ming can make more cash. The film follows the stoic Ming, who speaks little English, over the course of the day as he interacts with the cooks and restaurant manager (Wang-Thye Lee, an actual employee of the restaurant where Take Out was filmed), and races in the rain on a multitude of deliveries on the Upper West Side of Manhattan, interacting with a broad spectrum of New Yorkers. The filmmakers made Take Out on an extremely low budget, even by indie standards, using the Internet to find their cast, and shooting at the restaurant during business hours with a skeleton crew. Take Out was shown at the 2004 New York Asian American Film Festival and at the 2004 Nashville Film Festival, where it won the Grand Jury Prize.
Critic Reviews for Take Out
Audience Reviews for Take Out
In "Take Out," Ming Ding(Charles Jang) has been threatened by loan sharks he is in debt to. If he does not pay them $800 by the end of the day, they will double his debt. And they leave him something to remember them by. The first $500 is easy enough and his co-worker Young(Jeng-Hua Yu), who has dreams of bigger things than delivering Chinese food, gives him another $150. He also helps out Ming by giving him his deliveries for the day, and therefore his tips, because he also really does not want to be riding a bicycle in the rain in Manhattan, not exactly a bike friendly place. "Take Out" takes a realistic approach in its depiction of immigrant life in New York City with its digitally shot footage at street level. The immigrants are here trying to make a better life for themselves but also in many cases, like Ming's and Young's, leave family behind. So, in the new country, they have to work together to survive. What separates Ming is that he has borrowed money from loan sharks to pay off his family. That's what gives the movie its driving force but also puts it at odds with its otherwise naturalistic approach.(By comparison, "Clerks" did well by just depicting one ordinary day in the life of a convenience store.) That's not to mention that we do not have any way to measure how well Ming is doing through the day(His previous record is $90.) which leads to a good deal of repetitiveness and a predictable buildup to something I could see happening a mile away.
Stay away from this movie at all costs. There is absolutely no redeeming quality this film possesses. It's repetitive, slow-paced and very dull. What could've been an interesting character study of illegal immigrants and their integration into the American society, instead, turned into a ho-hum attempt at creating a slice-of-life picture that makes you want to slice your wrists instead. "Tedious" would be a step-up for this. "Boring" is more like it.
Rico Zamora
Super Reviewer
Take Out Quotes
There are no approved quotes yet for this movie.