Tamara Drewe
(2010)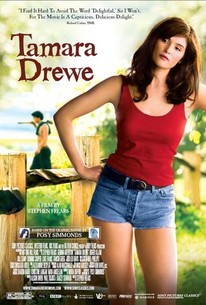 Movie Info
When Tamara Drewe sashays back to the bucolic village of her youth, life for the locals is thrown tail over teakettle. Tamara -- once an ugly duckling -- has been transformed into a devastating beauty (with help from plastic surgery). As infatuations, jealousies, love affairs and career ambitions collide among the inhabitants of the neighboring farmsteads, Tamara sets a contemporary comedy of manners into play using the oldest magic in the book-sex appeal.
News & Interviews for Tamara Drewe
Critic Reviews for Tamara Drewe
Audience Reviews for Tamara Drewe
Somehow this thing is supposed to be a spin on Far From the Madding Crowd but except for the merest passing references it bears no semblance to that story.
Tamara Drewe is a highly disappointing film, considering the excellent director (Frears) and stellar English cast. It is neither funny enough to be a rural sex farce (like Bergman's 'Smiles for a Summer Night' or even 'The Big Chill'), nor is it melodramatic, juicy or meaningful enough to be a great, ripping Victorian style yarn. It splits the difference and fails to achieve either goal, and loses the audience early in the movie. Taking a contemporary graphic novel (by Posy Simmonds) inspired by a Thomas Hardy book sounds intriguing, but this entire movie worth much less than each of its excellent component parts. I know the Hardy story (Far From the Madding Crowd) is a far more satisfying experience, and though I haven't read the Posy SImmonds graphic novel, it must surely be more consistent in tone and execution than this hodgepodge. Tamara (Gemma Arterton) is a former ugly duckling with a huge honker who returns to her native village as a successful journalist and is now a swan (with an all correcting nose job) and proceeds to have affairs with three contrasting men, a local married thriller writer (Allam), a rock star (Cooper) and finally, the salt of the earth good man (Evans) who is a down on his luck laborer on her family's property. Arterton is certainly sexy and intelligent, but she does not carry the film with the requisite charisma. She failed to make me empathize with her character's plight, what with owning a stunning country property, being stunning, and having the choice of any man she wants. The three men are all cliches and I didn't care about them much either, since they didn't really come across as three dimensional human being. Much of the drama and conflict of the story is experienced through the writer's long suffering and naive wife, (Tamsin Greig) who is the only character that I cared about, and then only marginally, mostly due to Greig's memorable, often funny and vulnerable performance. There are two teens in love with the rock star, and so they make everyone's live miserable with their meddling, undermining behavior. They are fun, but their meddling is there to just provide convenient and paint by numbers plot complications, which involve, among other things, hacked and fake phone messages (rapidly becoming a tired movie cliche). The film has a macabre and dire ending (true to Hardy) that does not fit with the mostly farcical tone of the rest of the film. Sorry, worth a sleepy plane ride if you can't select the content, but there are so many other superior similar films (Mike Leigh's lighter fare, for example). I know that's not a very big thumbs up at all.
Josh Morris
Super Reviewer
Tamara Drewe Quotes
| | |
| --- | --- |
| Tamara Drewe: | Ben... which finger? |
| Ben Sergeant: | Whichever one you like. This one's nice... stick it on this one. |
| | |
| --- | --- |
| Tamara Drewe: | It's not actually new, it's just smaller. |
| | |
| --- | --- |
| Nicholas Hardiment: | The real secret about being a writer is learning how to lie. |