Tank 432 (Belly of the Bulldog)
(2016)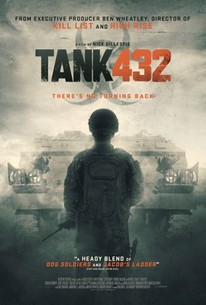 Tank 432 (Belly of the Bulldog) Videos
Tank 432 (Belly of the Bulldog) Photos
Movie Info
From executive producer Ben Wheatley (Kill List, High-Rise) comes a mind-bending plunge into hallucinatory terror. Under siege by a mysterious enemy in an apocalyptic, war-torn landscape, a band of mercenary soldiers, hooded hostages in tow, seek refuge inside an abandoned military tank. But their sanctuary soon reveals itself to be a steel-walled prison. As the group succumbs to claustrophobia, paranoia, and increasingly disturbing delusions, it becomes clear that the real threat may lie not outside, but within. The directorial debut from longtime Wheatley collaborator Nick Gillespie unfolds like a delirious, pulse-pounding puzzle.
Critic Reviews for Tank 432 (Belly of the Bulldog)
Audience Reviews for Tank 432 (Belly of the Bulldog)
Why was this film released on this side of the world, I'm assuming at least, with the alternate title of Tank 432 instead of Belly of the Bulldog? The latter is so much better as the title of a movie. Tank 432 just comes across like it's gonna be a bland and generic war movie. Belly of the Bulldog has so much more personality and it jumps out at you more. I suppose Tank 432 gives you a sense of the concept and where the film takes place, whereas Belly of the Bulldog is more vague and doesn't really give off any idea of what the concept may be. But I digress, that pointless rant out of the way, quite frankly this movie bored the shit out of me. I suppose boring the shit out of me is better than the alternative, for it to be a complete turd of a movie, but I don't know how better that actually is. Because, at least, if the movie is bad, I can get some enjoyment out of it if it makes me laugh. The fact that it's boring makes this review more of a chore than it would have been otherwise. The problem, first things off, is the fact that the majority of the film takes place inside the tank. This enclosed space adds a claustrophobic effect to the proceedings, which might accelerate the descent of the mercenaries' mental faculties. That's all fine and dandy, but I already saw a movie like this some years ago. That movie is No Man's Land, which is a fucking tremendous film. Granted, this one has more of a psychological horror approach to its narrative. Whereas No Man's Land was a regular war movie with a very different setting. But the fact that the movie reminds me so much of No Man's Land, an unfavorable comparison to Tank 432, certainly didn't do it any favors. This brings us to what the film does do on its and that is the psychological horror. Where do I get started? I really don't even know. Let's just start that the movie looks like it was shot on a $100,000 budget. The cinematography is really dull and the locations don't really feel like they're consumed by war. Things improve once the soldiers are inside the tank. Because how hard is it, really, to make the inside of a tank look shitty. The thing is that this movie, in spite of being a dull and predictable psychological horror movie, has a cast with talented people in it. You just wouldn't notice it from the way the film is shot and edited together. And, obviously, I had problem with the narrative. Once inside the tank, one of the soldiers start seeing strange figures on the field. He came into contact with this orange powder while trying to find a way to fix the tank so they could start it up. Did I mention that they're trapped inside the tank? Anyway the film is purposely vague, there are many questions and very few answers. The film was completely set-up this way. And, to me, this is an awful way to tell a story. Because if you go in with the assumption that you're gonna leave everything vague, then you might not even put in much of an effort to tell a good story in the first place. And this is more subconscious more than anything else, because I feel that the screenwriters feel that they can come up with all the questions they want and, since they're not gonna answer them anyway, then it doesn't really matter. I don't have a problem with this vague approach, if the film is well-written and still manages to have a satisfying conclusion. This is very possible, look at a film like The Wailing, as an example of this being done expertly. The film has many questions and it gives you a satisfying story with a legitimate conclusion, while also allowing for various interpretations of some of the more vague elements of the narrative. They give you all of the tools, you come up with your own theories. And this movie isn't as bad as some of that I have seen, but I still had an issue with the film's approach. Not to mention the fact that the film just didn't really have anything interesting to say. Plus, the fact that the story is vague doesn't mean that the what's happening here won't be obvious to anyone with half a brain. It's clear that the government is using these experiments in order to refine the orange powder in order for use on the battlefield. This orange powder would cause the enemy combatants to turn on each other. So, basically, this is a movie about psycho-chemical warfare. At least that's how I interpreted it. I think the problem with this is that it wants to be vague while being completely fucking obvious at the same time. And there's no real or right answer here, once a film is released, you cannot control the theories behind it (however stupid some of those theories may actually be in the case of some famous films). Even with that, however, the movie still found a way to bore the ever loving shit out of me. I just don't know, like there's literally a whole lot of nothing going on once these people get in the tank. It's all the same, until the third act when things hit the fan. Some of the scenes during the third act are really bad, but it is what it is. The acting is fine, if not particularly consistent. Michael Smiley has the most memorable character of the bunch and he's only in, like, 20% of the movie. I don't have anything else to say, this isn't a bad movie, technically speaking. But it's setting and narrative are ripped off from other, and much better, movies. It adds nothing new to the table while also completely boring the fuck out of me. I would not recommend this, unless you have absolutely nothing else to watch cause you've exhausted all your options. And that will, literally, be impossible with how many movies exist out there. Not bad, not good, just boring. Your time would be better spent reading a book or something.
Jesse Ortega
Super Reviewer
Tank 432 (Belly of the Bulldog) Quotes
There are no approved quotes yet for this movie.