Tarantula
(1955)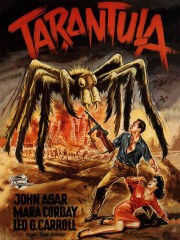 Tickets & Showtimes
Tarantula Trailers & Photos
Movie Info
Professor Gerald Deemer has been working fervently on a new project: a special growth formula. After he tests it on his lab tarantula in Arizona, the thing somehow escapes into the desert and grows to gargantuan size, destroying all in its path.
more
Cast
News & Interviews for Tarantula
Critic Reviews for Tarantula
Audience Reviews for Tarantula
Tarantula is yet another terrific monster film from the golden era of giant monsters. The film is a bit slow, but the payoff is exciting and thrilling. The cast do a good job in their performances, but like every other film dealing with giant creatures, the special effects steal away the show. Tarantula is sure to delight genre fans looking for an entertaining monster film. Tarantula delivers some memorable B movie moments, and you come to admire how well this film looks considering the fact that this was made in the 50's. Nowadays, we don't get films like this anymore, and it's always good to revisit the classics. Tarantula is very much in the same category as Them! a giant Ant movie of the same era. Tarantula is a wonderful monster film, one that every genre fan should check out, and it ranks among the finest horror films of the 50's. With a well thought out script, good acting and great effects, Tarantula captivates the viewer with stunning moments of monster mayhem. There are better monster films, and that's including Them! And the Blob, but Tarantula is nonetheless another great addition to the plateau of 1950's monster movies. Using a simple idea, the filmmakers were able to pull off something great with a basic idea. If you enjoy the genre, then give Tarantula shot. This ranks among the best of the decade, and in terms of mutated creature films, this one succeeds at being quite entertaining and is memorable from start to finish. With great acting, a simple, yet engaging story and awesome special effects, Tarantula is an impressive monster film that is sure to appeal to genre fans. Tarantula is yet another great 1950's era monster film that won't disappoint. The film may be a bit slow, but the payoff is worth it.
½
An enjoyable 50's creature feature in which the effects have aged rather well for the most part. A real tarantula was used in the scenes were the title creature crawls across a miniature desert landscape. There is also a scene where we see a lab full of enlarged animals that looks pretty cool. Despite some entertaining effects, the makeup used for the facial deformities of the professor guy look a bit laughable at times. The movie also boasts from some good acting from the cast, a good dose of atmosphere, and a welcome tongue-in-cheek nature. It is not mind-blowing, but it is a nice little creature feature that does not easily fall into the goofy self-seriousness that plagued some other 50's B-movies. Be on the look out for a young Clint Eastwood, who plays an ariel squad leader that attacks the giant tarantula in the film's blazing climax.
Discussion Forum
Discuss Tarantula on our Movie forum!
News & Features