Taste of Cherry (Ta'm e Guilass)
(1998)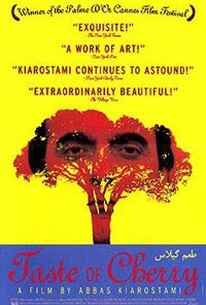 Movie Info
In this dark, intense, and emotional film, a depressed middle-aged man travels the Iranian countryside searching for someone to bury him after he commits suicide. Eventually, he encounters a Turkish taxidermist who tries to get him to see life's beauty.
News & Interviews for Taste of Cherry (Ta'm e Guilass)
Critic Reviews for Taste of Cherry (Ta'm e Guilass)
Audience Reviews for Taste of Cherry (Ta'm e Guilass)
½
Abbas Kiarostami's 1997 film "Taste of Cherry" is a beautiful minimalist film composed mostly of long shots and close-ups of characters speaking to one another in a car. The story is relatively simple enough. Mr. Badii (Homayoun Ershadi) drives around Tehran looking for someone to burry him after he commits suicide. Badii is willing to pay whoever the man is. He has dug a hole in the hills somewhere and plans to lay in it and take some pills, he asks that whoever helps him to return at a certain time and call down to him, if he responds pull him up, if he doesn't cover him with dirt. Badii deliberately drives around areas of town where men are out of work and looking for odd jobs. At first it is implied that he is a homosexual looking for sexual favors, but that quickly does not seem to be the case. He finds a few men who seem they could use the money, but they refuse to help him. He finally finds a Turkish taxidermist to help. There is no mention of why Badii wants to committ suicide and there is little known about his character. Where did he come from? What does he do? Where did he get that money to offer these people? But, is all that really needed in a film this good? Does a film always need to develop characters and provide as much backstory for them as possible so the audience can identify with them? "Taste of Cherry" is an Iranian film and Iran is a country that doesn't receive a lot of attention for their cinema, but recently Asghar Farhardi won an Academy Award for Best Foreign Film for "A Separation" and even received a Best Original Screenplay Oscar nomination. It's safe to say that maybe Americans should consider more Iranian cinema.
Joseph Boomhower
Super Reviewer
½
*may contain small spoilers* Palm d'Ore winner, Taste of Cherry, is a profound story about a young man who wished to end his life, but needs some help in doing so. Despite not being in one stationary setting, this film takes place in mostly one location, his car. It's not immediately clear what his intents are, even though one could predict it, there's also the possibility of him being a hit man. But he's not, he's just ready to end his life premature. The film grapples with deep ethical questions, and how much man is willing to stick to his roots. Some would say they'd never partake in assisted suicide no matter the money involved, and some the opposite. Similarly when the opportunity approaches it's much different than just having it as a rhetoric. The film is head deep in symbolism, and despite not much being said, everything is clear. The ending didn't really connect with me. Like Close-up (also directed by Kiarostami) the ending is up to many interpretations, but I think one thing is clear, it shows at the end it's a film. A reenactment or just a crew member remembering his past, I'm not sure.
Daniel Dolgin
Super Reviewer
Another brilliant stroke from Abbas Kiarostami depicting a man seeking to end his life and taking a tour of characters in his community to ensure that he is buried. We get to see the reaction of characters to the main character's choice which leads to delightfully expected exchanges.
John Ballantine
Super Reviewer
Taste of Cherry (Ta'm e Guilass) Quotes
There are no approved quotes yet for this movie.
Discussion Forum
Discuss Taste of Cherry (Ta'm e Guilass) on our Movie forum!