Ted Bundy
(2002)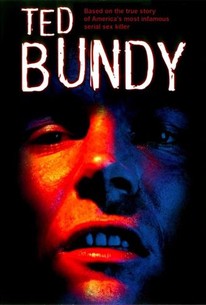 Movie Info
Director Matthew Bright (Freeway) directs this tale of one of the most notorious serial killers in the annals of crime. Standing in stark contrast to the generally accepted view of serial killers, Ted Bundy (Michael Reilley Burke) was intelligent, quick-witted, and handsome. Engaged to a beautiful fiancée who never suspected his murderous tendencies, the feral Bundy develops a taste for murder that ultimately results in the deaths of at least 19 young women through the course of the 1970s. From posing as an injured driver and luring unsuspecting women to their deaths to an astonishing pair of jailbreaks and his ultimate death by capital punishment, viewers follow the murderous madman on a crime spree that shocked a nation and left the public's perception of what a serial killer is truly capable of forever changed.
People Who Like this movie also like
Critic Reviews for Ted Bundy
Audience Reviews for Ted Bundy
½
While it's somewhat interesting to look into this portrayed psyche of Bundy's, this film grows stale quickly. As soon as Bundy is caught, you know the film is essentially over. Stefani, playing Julie, fails to play a convincing role. The acting is generally poor in this movie, but it's especially bad on her end. Then there's the misogyny of this film; it's pretty intense. I realize that Ted was a serial killer who was known to rape and kill women exclusively, but still, the tone is really harsh here and it was a bit unsettling watching this. Have 96 minutes to spare? Well then, I wouldn't recommend it.
Horrific Reviews
Super Reviewer
½
Creepy, unrelenting and ultimately making you feel uneasy, Ted Bundy is the true story of the notorious serial killer. The film is decent for what it is, but it's not one of those pictures that are worth watching again and again. Actor Michael Reilly's portrayal of Bundy is chilling and is what makes the film work. This is a hard film to watch as it is a real life horror story about America's most depraved serial killer. I remember seeing this film when originally released, and it scared the hell out of me. Also it made me feel uneasy. Overall I thought it was a decent film, nothing good or great. However due to its content, it's only worth watching once. The performances are very good, and the lead actor is convincing as the demented title character. This film should appeal to people who are interested in such topics. This is nothing remarkable, and honestly I don't see why this film was made. Compared to Monster starring Charlize Theron, this one just lacks an effective script, and on many occasions, fails to be close to the true story itself. Either way, this is a true, horrifying story about a sadistic killer, and should only be watched by viewers that are interested in the subject. Other than that, there's nothing really rewarding or truly entertaining about the film. The film ultimately plays out like a low-budget made for TV drama horror flick that is decent due to its performances, but aside from that; this film is quite forgettable.
It's a really sophisticated movie about Ted Bundy, ultimately horrifying. I wouldn't watch it again
Sylvester Kuo
Super Reviewer
Ted Bundy Quotes
There are no approved quotes yet for this movie.