Teenage Cave Man (Out of the Darkness)
(1958)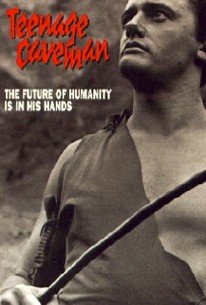 AUDIENCE SCORE
Critic Consensus: No consensus yet.
Teenage Cave Man (Out of the Darkness) Photos
Movie Info
Robert Vaughn stars as a white 25-year-old teenage caveman with styled hair who seeks to discover what is in the uncharted jungles beyond his tribe's campsite. It is against the Word (and the Word is the Law), but he breaks it anyway. Soon he discovers a strange creature which kills with its touch.
Critic Reviews for Teenage Cave Man (Out of the Darkness)
There are no critic reviews yet for Teenage Cave Man (Out of the Darkness). Keep checking Rotten Tomatoes for updates!
Audience Reviews for Teenage Cave Man (Out of the Darkness)
Other than Robert Vaughn, there is really nothing to see from this ultra low budget science fiction film.
Sylvester Kuo
Super Reviewer
This is the second movie in a twin pack of Samuel Arkoff Cult Classic Collection. A surprise to me was seeing a very young Robert Vaughn who played the Man from UNCLE. This is pure Drive In Movie Stuff, maybe Saturday afternoon matinee. A Young Caveman is not happy with the rules and living conditions at home and he wants to travel to worlds unknown. A surprise twist at the end. All in all its ok, Not Horror but more 1958 Sci Fi. 3 Stars.
Bruce Bruce
Super Reviewer
Another B-Movie available on amctv.com originally distributed by American International Pictures. This one directed by Roger Corman himself. Robert Vaughn stars. Maybe because he appeared in The Magnificent Seven just a couple years later, and that is primarily what I remember him from, or because he kept his boyish looks well into his career that he was so recognizable. He doesn't look particularly young as if we are getting a glimpse of his earliest work. I liked the concept. I think there was some intelligence and potential in the story. It was simply executed in a very cheap way. A prehistoric tribe has a book of laws and customs that are forbidden to break. The main taboo is questioning the customs, or limitations passed down in the book, or anything for that matter. Just plain questions are avoided. Outsiders are not accepted too. Robert Vaugh as the son of the Symbol Maker is full of questions and a rebellious young spirit for pushing boundaries. Spoiler: The twist at the end is similar to the one Planet of the Apes would use a decade later. It feels abrupt and not extremely well woven into the whole with the long narration tagged on the end.
Byron Brubaker
Super Reviewer
Teenage Cave Man (Out of the Darkness) Quotes
There are no approved quotes yet for this movie.