Teorema (Theorem)
(1968)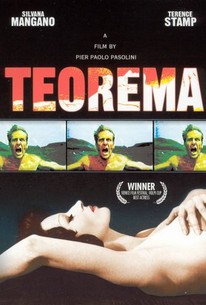 Movie Info
Terence Stamp is known only as "The Visitor" in Pier Paolo Pasolini's Teorema. The mysterious stranger insinuates himself into the home of a wealthy Italian family, where he exerts a curious, sensual spirituality over everyone in the household. He then proceeds to seduce everyone in the family (male and female) including the maid, which gives each person some sort of unique epiphany. Because he reveals so little about his innermost thoughts, "The Visitor" becomes all things to all people. What it boils down to is this: Is the enigmatic visitor Christ, or is he the Devil? Matching Terence Stamp's multi-textured performance every step of the way is Laura Betti as the family's maid; Betti, in fact, won the "Best Actress Award" at the 1968 Venice Film Festival. Director Pasolini adapted the screenplay of Teorema from his own novel. ~ Hal Erickson, Rovi
Critic Reviews for Teorema (Theorem)
Audience Reviews for Teorema (Theorem)
½
A mysterious young buck visits a wealthy household, makes love to the father, son, mother, wife, and housekeeper and then leaves; all of them are lost without him and fall into separate strange tragedies. Another dry and dull, and inexplicably influential, experiment from Italian masochist Pier Paolo Passolini.
½
Arresting and profound! The film begins with the ending. Stamp acts as an awakener to the pseudo-existence of the bourgeoisie. Stamp's character can be summarized by a Nick Cave lyric: I found god and all of his devils inside h(im). The second half of the film, or upon Stamp's departure, is lingeringly complex. Upon initial viewing and at a cursory level, I find each character reacting to their a...wakening or crisis of the spirit, through means of the physical, insanity, art, sexuality, misguided spirituality, or stripped naked of materialism, possibly lost in the horror of recognition. I know there is a statement in this film about society, the spirit, and its relation to the human condition and experience: I just don't know what to think of it yet.
Stefanie C
Super Reviewer
A very Christian rumination: what is the meaning of life? Pasolini poetically, lyrically offers the Book of Ecclessiates by Solomon (" ... everything is vanity ") for consideration. Made in the Sixties it reflects some of the counter- cultural ideas that were sweeping through the affluent West at that time.
Kevin M. Williams
Super Reviewer
Teorema (Theorem) Quotes
There are no approved quotes yet for this movie.