TerrorVision
(1986)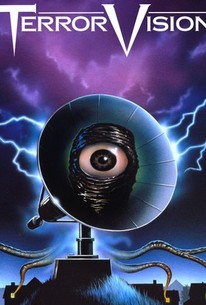 Movie Info
When their satellite dish accidentally picks up the energy of a voracious alien beast and it is suddenly reconstructed in material form, an otherwise normal family is terrorized. This sci-fi/horror pic contains violence and adult situations.
Critic Reviews for TerrorVision
Audience Reviews for TerrorVision
Unique horror comedy that gives the viewer a truly eccentric viewing experience, TerrorVision is one of those movies that relishes in delivering so bad it's good entertainment that is purely designed for B movie fans looking for their fix in low budget horror schlock. This is a film that has over the top acting to the point where it's laughably bad, but there's a charming quality to the film that you simply can't turn away. The film delivers in the gross out shocks and if that is what you're looking for, then this is the film for you. There's plenty of gore here to please fans of these types of movies, and although a heavily flawed movie, this is enjoyable for what it is. This is not a film for everyone as it is really quite ridiculous. However if you're looking for a good laugh out loud, stupid horror comedy, then by all means, TerrorVision is a film that you should see for a night of bad movie fun. This is cheesy, tongue in cheek horror. If films like this are your cup of tea, then give it a shot. However for fans looking for something good to watch, they'll sadly be disappointed with this one as it is low budget trash at its finest. For B movie fans, TerrorVision is a good little gem of a movie worth seeing for mindless entertainment fun. Don't expect anything truly terrifying as you won't find anything here. Go into this one with an open mind and you may enjoy it. The film really shines with the effects and monster carnage, which some characters are totally oblivious until it's too late. As a B movie, this one is so bad it's good, but as a classic of the genre, this doesn't cut it. Expect mindless ridiculous horror with cringe worthy acting and dialogue and have fun with it.
½
Completly ridiculous and over the top sleazy b-movie from the 80s. Everything is exaggerated to 373%, characters are all complete morons but everything is laughable from start to finnish on how awful it all is.
Francisco Godinho
Super Reviewer
Well not to much i can say on this movie except dont expect a cool alien sci fi movie or a horror film here this one is played for the cheese factor only produced by Charles Band who also had a hand in Pupper Masters and Gingerdead Man is this movie about a family that gets a new satillite dish that soon turns into a portal for another world in comes a alien that takes out most the family and the only one that knows whats going on is a kid no one will listen to. watch if your into really cheesey B movies or just dont waste your time
TerrorVision Quotes
There are no approved quotes yet for this movie.