Texas, Adios (Texas, Addio)
(1967)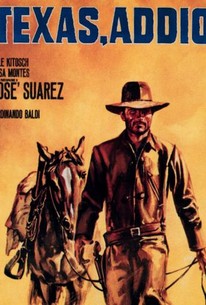 AUDIENCE SCORE
Critic Consensus: No consensus yet.
Texas, Adios (Texas, Addio) Photos
Movie Info
The Continental cast and scenes of intense violence may earmark Texas, Addio as a spaghetti Western, but the plot of this Italian/Spanish production unspools very much like its Hollywood counterpart. Django star Franco Nero's character provides the link; his two-fisted, taciturn Texas sheriff, Burt Sullivan, is cut from the same unwavering in-his-duty cloth as Gary Cooper's lawmen as he crosses the border to bring wealthy and sadistic Mexican crime boss Cisco Delgado (José Suárez) to justice for the murder of his father. Sullivan's body count may be staggeringly high by the film's fade-out, but his kills are strictly in defense of himself, his greenhorn brother, Jim (Cole Kitosch, aka Alberto Dell'Acqua or Robert Widmark), or later, a group of Mexican revolutionaries led by lawyer Luigi Pistilli that attempts to overthrow Delgado's corrupt regime. Director Ferdinando Baldi (whose Western curriculum vitae includes the more European-flavored Blindman [1971] and Get Mean [1975], with American ex-pat actor Tony Anthony) makes excellent use of the Almeira, Spain, locations (well photographed by future Trinity Is Still My Name director Enzo Barboni); and if his pacing is occasionally draggy, he more than makes up for it with a wealth of well-staged brawls and shoot-outs. His script (written with Django co-scribe Franco Rossetti) is lean and solid, with a hint of noir in its central dark secret regarding Delgado's relationship with Sullivan's family.
Critic Reviews for Texas, Adios (Texas, Addio)
There are no critic reviews yet for Texas, Adios (Texas, Addio). Keep checking Rotten Tomatoes for updates!
Audience Reviews for Texas, Adios (Texas, Addio)
½
"Texas, Adios" starts with a shootout in Texas that Sheriff Burt Sullivan(Franco Nero) settles by stopping a bounty killer from killing a defenseless thief in cold blood. He then assures the bounty killer that the bounty will be spent on a good cause. That might just turn out to be Burt going to Mexico to seek out his father's killer, Cisco Delgado(Jose Suarez). Reluctantly, he agrees to bring his younger brother Jim(Colle Kitosch) along for the ride. Once on the other side of the border, everybody is either too afraid or belligerent to talk to them. But the brothers are not going anywhere, even after attempts are made to bribe them and forcibly remove them by the authorities. "Texas, Adios" is an entertaining and violent Spaghetti Western(that I watched in Italian, by the way) that seeks to explore the differences between justice and revenge in the old west. At one point, Jim asks his brother why he is so much more trigger happy south of the border. And the answer may have something to do with in the states, the bandits are poor, while in this part of Mexico they are the ones in power, leaving him no authority to turn to address wrongs. But then nothing is as simple at it first seems...
Not a great movie by any stretch, but it's Franco Nero killing a bunch of bad guys in a duster. It works extremely well as a fun b-movie spaghetti western, a simple story of revenge. While this does have one of the worst dubbings I've ever heard for a movie (Franco Nero is dubbed by three different voice actors), it doesn't detract all that much from the overall feel of the movie. I like it because it plays by the rules and is extremely fun, it's impossible not to enjoy.
Conner Rainwater
Super Reviewer
Texas, Adios (Texas, Addio) Quotes
There are no approved quotes yet for this movie.