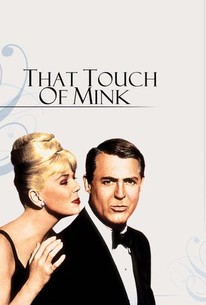 That Touch of Mink
1962, Romance/Comedy, 1h 39m
9 Reviews
5,000+ Ratings
Where to watch
Rent/buy
Rent/buy
Rent/buy
Rate And Review
That Touch of Mink Photos
Movie Info
Cathy Timberlake (Doris Day) is en route to a job interview when a car transporting businessman Philip Shayne (Cary Grant) covers her in mud. He sends his assistant, Roger (Gig Young), to apologize, but upon meeting Cathy, Roger knows that she would be a suitable match for his boss. Despite their mutual attraction, Cathy and Philip want different things. Philip wants a fling, while Cathy wants a marriage. As they travel to exotic locales, their differing motivations are put to the test.
Audience Reviews for That Touch of Mink
A businessman woos a lower class girl, but his refusal to marry her complicates their desires. This film could be offensive in its anti-feminist and classist depictions and its mockery of homosexuality. Or this film could be progressive in its satire of gender conventions and class boundaries; its lampoon of homosexuality is markedly clear. I struggle with making meaning out of the film. The idea that Roger would see transcending class boundaries as a punishment is ridiculous, but it's played that way in the film. The idea that women cannot choose to sleep with a man she fancies is also condemnable, and while there are moments when the film seems to agree, when Doris Day's character is made to say, "I will become a woman," in her decision to sleep with Mr. Shayne, I couldn't resist a stomach turn of repulsion that she would think her womanhood, or maybe even personhood, rests on her sexual escapades. It's a complicated mess, and I left this film unsure of what to make of it and even less sure whether I enjoyed it. Overall, the surface of this film is charming enough, but thinking about it causes concern.

This is a nice romantic comedy with good actors, and some funny moments, but overall not that great a movie, it's predictable and not Grant's best. It's an okay movie, though.

Kinda sweet. Doris Day manages to not be too much of a prude in this quirky romance.

Grant plays Robert Redford as a billionaire used to getting what he wants and is willing to pay for it. Doris Day plays Demi Moore and both seem unaware that they are in fact 20 years older than the parts they are playing. From this minimalist foundation is made a marriage of charismatic styles concocted for whatever sizzle that may occur, no more, no less. It's an oddity, and viewable mainly for that reason alone, though Gig Young and Audrey Meadows labor mightily to add kitschy zing to the mix.
See Details