The Effect of Gamma Rays on Man-in-the-Moon Marigolds
(1972)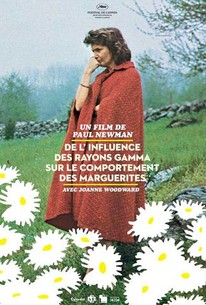 Movie Info
Based on the Pulitzer Prize-winning play by Paul Zindel, this is a joint effort of husband and wife team Joanne Woodward and Paul Newman. Produced and directed by Newman, Woodward portrays the eccentric young widow who is raising her two disparate daughters in an atmosphere of bitterness, hatred and over-protection that threatens their very growth and development. Embittered and misandristic, she raises her daughters in an atmosphere of hate that leaves them as depressed and neurotic as she is. The title of the movie comes from her anger at her daughter's science teacher for encouraging her to expose marigolds to gamma rays as a science project. Her experiment shows how radiation sometimes kills growing marigolds, but sometimes it causes them to grow even more beautiful. This experiment becomes a metaphor for her own life, as she struggles to bloom in a household deadened by her mother's alcoholism and her sister's lethargy.
Rating:
PG
Genre:
,
Directed By:
Written By:
In Theaters:
Runtime:
Studio:
20th Century Fox
Critic Reviews for The Effect of Gamma Rays on Man-in-the-Moon Marigolds
Audience Reviews for The Effect of Gamma Rays on Man-in-the-Moon Marigolds
Another Family Affair by The Newman's: Joanne Woodward as Beatrice the Bitter Drunken Widow,Paul Newman Directing & Producing,& their Daughter, a Teenage Nell Potts as the shy & unhappy Science Nerd Daughter, Matilda.The Show Stealer though is clearly Eli Wallach's daughter, Roberta Wallach, who is the older Teenage Daughter,Ruth,who has Epilepsy & Sleep Walking Nightmare's, enhanced by by the repression of the Household of Hate.Roberta Wallach gives a few amazing angst filled performances. Forced to take in another Elderly Boarder after the other one dies in their home is just one of the the challenges that make for an unpleasant atmosphere for this Widow/Single Mother & her two Teenage Girls in a Cynical World that knows mostly sadness.The Outrageous, misleading title derives from Matilda(Nell Potts)'s Science Project & is a Metaphor for their life & how they can change it if they put a little effort into it.Excellent Performances all around, by Joanne Woodward, Nell Potts, but esp. Roberta Wallach
Marilee Aschwanden
Had Woodward been as cynical, joyless, and venom-filled as the character she portrays, I seriously doubt her marriage would have lasted all these years. Interestingly enough, it is her husband who directed her through what amounts to a fine performance -- their daughter also plays Matilda, by the way. All of the roles in the film are demanding ones, so it's quite an accomplishment that the cast members turn in such authentic characterizations. Let's face it, Woodward has been much underrated as a film actress, and here she takes an unpleasant character and makes her someone that the audience cannot take its eyes off of. Hints are dropped about Beatrice's once promising future, which we can see for ourselves has never been realized. As a mother all she is capable of any longer is berating her daughters and generating more pitiful complaints. The daughters are a combination of youthful dreams and dread for an adulthood that is every bit as dank as their mother's present. Several signs suggest that Ruth is destined to become like her mother, and though both daughters' prospects remain intact when we last see them, it is sad-faced Matilda who seems destined to actually fulfill her promise.
Charles H.
The Effect of Gamma Rays on Man-in-the-Moon Marigolds Quotes
Discussion Forum
Discuss The Effect of Gamma Rays on Man-in-the-Moon Marigolds on our Movie forum!