The Fantasticks
(1995)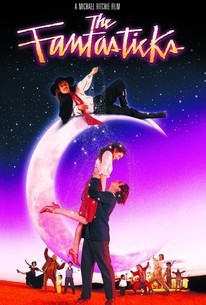 The Fantasticks Videos
The Fantasticks Photos
Movie Info
Two fathers spark a romance between their children by pretending to feud. Their deception weaves a tangled web when they enlist the aid of a mysterious traveling showman named El Gallo.
Rating:
PG (for some bawdy carnival humor)
Genre:
, , ,
Directed By:
In Theaters:
On DVD:
Runtime:
Studio:
MGM
Cast
Critic Reviews for The Fantasticks
All Critics (24) | Top Critics (2) | Fresh (12) | Rotten (12) | DVD (2)

Los Angeles Times
Top Critic

San Francisco Chronicle
Top Critic
Audience Reviews for The Fantasticks
½
It was okay. I have yet to see it on stage, but I know that it is in the minimalist tradition. Movies seldom are, yet this film tries to meet the original half way with mixed results. There is a circus, but it is small. There are houses, but they are tiny. There is magic, but it is cheap. It probably would have been better to just pick an extreme and go for it. The music is still good, and Joel Grey moves well for an old guy.
Roy Smith
½
Deep in December There is, apparently, great conflict about the quality of this particular movie. Supposedly, you can tell whether or not someone's seen it live by whether or not they like it. So, then. There is but one obvious question to follow that, and I must admit that the answer is no. No, I have not seen it live, though I would kill to be able to have seen it in its original Off-Broadway production, at the beginning of its run (it went over 17,000 performances), when Jerry Orbach was in it. I have the soundtrack, a Christmas gift from a college roommate, and I hold deep and lasting affection for it. I have the only existing copy of a recording from camp, many many years past, wherein a group of us crowded around the piano at break and sang show tunes and music from Disney. As I recall, on that tape, Richard Meyer--semi-famous composer of orchestral and band music for junior high musicians--sang "Try to Remember" alone. I've got to get that onto a more lasting format at some point. Amos Babcock Bellamy (Joel Grey) lives in a neat and tidy house in the middle of nowhere with his daughter, Luisa (Jean Louisa Kelly). Right next door is the house of Ben Hucklebee (Brad Sullivan) and his son, Matt (Joe McIntyre of the New Kids!), which is not so tidy. Luisa and Matt are forbidden to speak to one another. Their fathers have a long-lasting feud, started as soon as they became neighbours. And so naturally Matt and Luisa fall in love. It further turns out that their fathers knew it would happen and conspired on the whole thing. Only now that it's building to its successful conclusion, they don't know how to mend the break. To that end, they pay El Gallo (Jonathon Morris) to stage an abduction of Luisa from which Matt will rescue her, and they will combine their farms and Live Happily Ever After. End Act One. Only Luisa still hasn't had her fill of romance, and certainly the reality of living with people never quite works the way you imagine. After much fighting, Matt leaves to see the world--and Luisa asks El Gallo to take her to see it as well. There's a reason this show has lasted bloody forever, and I think it is tied to why the movie bombed so spectacularly. (A fate I don't think it actually deserved.) It's both fanciful and philosophical. At the end of the stage production, El Gallo reminds us to leave the wall. We must always keep the wall. This is an exploration of human nature which I think play-goers are more inclined to accept that movie-goers. Especially given that this played Off-Broadway, so it probably wasn't the tourist draw of, say, your [i]Cats[/i] or your [i]Producers[/i]. It's amusing to see the fathers play with reverse psychology, but the longings in Luisa's heart are ones not everyone understands. Agnes DeMille said that either Rodgers or Hammerstein, I don't remember which, objected to her putting a dream of being a dance-hall girl into the ballet of [i]Oklahoma![/i] He said his daughter didn't imagine such things, and she told him that, if she didn't, he needed to keep a closer eye on his daughter. Luisa dreams of being a bad girl, and not everyone understands that the dream doesn't go away just because she's found love with the New Kid next door. It is of course also true that the American love affair with the movie musical was, if not over, definitely in abatement in 1995. We are prepared for a movie of a big-name musical, but even then, people are much more likely to just watch [i]The Sound of Music[/i] again. For all its tens of thousands of performances by now, this is still kind of obscure. My understanding is that its original house was quite small, and it wouldn't surprise me if they got a lot of repeat business. I only really heard about it for the first time through Mr. Meyer, though it seemed vaguely familiar when I looked into it, and I was not merely a musician but a serious fan of musicals. What's more, the movie doesn't really have any big names. Yes, as I keep pointing out, it had a New Kid, but they'd long since peaked by '95. In fact, they'd about peaked at the point at which the movie was made, several years earlier. Joel Grey is probably better known to my generation as "Jennifer Grey's father" (it's worth noting that Jerry Orbach played her father in [i]Dirty Dancing[/i]) and to the one ahead of us [i]maybe[/i] as the emcee from [i]Cabaret[/i], if they know him at all. And Teller wouldn't be a draw even if he did get lines. I can see why fans of the show don't reliably like the movie. It's not the best adaptation out there, and they don't give much weight to the songs. Their El Gallo is acceptable, and Jerry Orbach was getting a bit old to be the dashing, romantic figure who draws Luisa away to see the Wide World. Some of the other acting is a bit stiff, which is of course the problem with casting people who are singers and getting them to act, though I'll take that over the butchery which could be done to some of the songs by a non-singer. However, I do still like it. The bleak nature of the locations suits the story. It may even enhance it, given how fanciful it makes the houses seem. (No one for miles, and the houses are each ten feet or so from the fence.) No one is too attractive, though of course Luisa is quite pretty. I would say that this adaptation is preferable to no adaptation at all, but I really would like it if someone would come along and get it right. With or without random Teller.
Edith Nelson
I haven't seen this stage version of this, but I will be in May, so I may eventually have to change my star rating of this movie. I did find the music to be not nearly as good as that of the stage version, but I enjoyed the movie nonetheless.
Amanda Hendsbee
Discussion Forum
Discuss The Fantasticks on our Movie forum!
News & Features