The Rock-afire Explosion
(2008)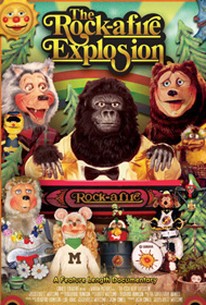 AUDIENCE SCORE
Critic Consensus: No consensus yet.
The Rock-afire Explosion Photos
Movie Info
Documentary filmmaker Brett Whitcomb profiles the man who made Showbiz Pizza a destination for any child raised in the 1980s, as well as a devoted fan who remains devoted to keeping the animatronic Rock-afire Explosion band in the spotlight where they belong. With approximately 200 locations across America at the height of its popularity, Showbiz Pizza combined every kid's favorite food with the magic of videogames and the thrill of seeing a band of animals play the biggest hits of the day. But all good things must come to an end, and when the owners of Showbiz Pizza purchased the struggling Chuck. E. Cheese's chain, the mouse took over the house. But fans like Chris Thrash never forgot what made Showbiz Pizza great. A car salesman from Phenix City, Alabama, Thrash saved up for two years to buy a complete Rock-afire Explosion set from Showbiz founder Aaron Fechter, and stirred the nostalgia of a generation by programming the band to play contemporary hits, then posting the videos to YouTube. In this film, we not only get to see how Fetcher created the once mighty Showbiz Pizza empire, but also follow along as Thrash fights keeps the dream alive for those who missed the wonder and amazement the first time around.
Rating:
NR
Genre:
, ,
Directed By:
Written By:
In Theaters:
On DVD:
Runtime:
Studio:
New Video Group
Critic Reviews for The Rock-afire Explosion
There are no critic reviews yet for The Rock-afire Explosion. Keep checking Rotten Tomatoes for updates!
Audience Reviews for The Rock-afire Explosion
I'm a child of the 80s. I grew up playing Super Mario brothers and eating Fruity Pebbles, and I certainly spent an afternoon or two in Showbiz Pizza, playing games and watching The Rock-afire Explosion. That being said, I'm NOT one of those people who values retro things just because they're retro. The Power Glove sucked, the Ninja Turtles movie was pretty bad, and the pizza at Showbiz was mediocre at best. Long story short, I needed this movie to be more than just a flashback and it didn't disappoint. Don't get me wrong, there's certainly a nostalgic over-current running throughout the whole thing. Fact is, if you're in your late twenties/early thirties and visited Showbiz Pizza as a child, you're going to appreciate this movie on a different level. But that's not what makes it great. The people make it great. Aaron Fechter and Chris Thrash are like kindred spirits from a different generation, both clinging to the past - both grasping at that often indescribable, ever-evasive element of truth from their childhoods. Do they find it? Do any of us, ever? I'm not sure this is the point. It's the quest that takes center stage here; and the idea that simply having the will to be a kid - even as an adult - is enough to keep us young. It's not all fun and games, but that's part of why it matters. The filmmakers could have made a "Showbiz history" movie or a retro -flashback fest, but they instead chose to find the humanity in this seemingly mundane (and at times, silly) subject. The film succeeds on this level in so many ways, and, if you're like me, still offers the chance to step into your own childhood for a little while. It's a rare treat, destined to be a cult-classic. Highly recommended.
A P
Yes I recall these from Showbiz Pizza. This doc was interesting and I would like to get these animatronics too.
Rodney Eckrich
One of the most bizarre documentaries I've seen. At the same time super sweet yet sadly pathetic, with a dose of nostalgia for any child of the 80's.
Daniel LeBlanc
Discussion Forum
Discuss The Rock-afire Explosion on our Movie forum!