Monstrosity
(1964)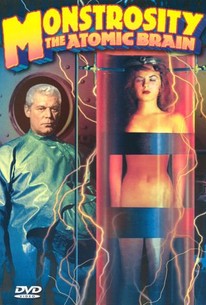 AUDIENCE SCORE
Critic Consensus: No consensus yet.
Movie Info
This weird, morbid little sci-fi thriller stars Marjorie Eaton as a filthy-rich but decrepit old widow who has devoted much of her wealth to funding the dubious (to say the least) scientific research of Frank Gerstle, who has constructed a mad lab in the widow's basement in order to perfect a technique in which an infusion of atomic energy (or something) will enable him to transfer the widow's brain into a young and sexy physique. To this end, three subjects are solicited through a want ad (under the pretense of employing a housekeeper). The three young women, all of different nationalities (represented by horrendous accents), are subjected to the old woman's scrutiny, until she selects the prime candidate... as the others become fodder for the doctor's pet projects. Needless to say, things don't turn out quite as planned: people are burned, torn apart by man-beasts, and get their eyes ripped out -- one poor lass even winds up with the brain of a cat. This has a certain perverse charm and is competently directed (excepting some boring stretches) by Joseph V. Mascelli -- who, in spite of his work on this film and Ray Dennis Steckler's The Incredibly Strange Creatures Who Stopped Living and Became Mixed-up Zombies, would later publish a well-known book on cinematography.
Critic Reviews for Monstrosity
Audience Reviews for Monstrosity
Hmm, lately I've been giving a lot of these 50's sci-fi and horror B movies two star ratings. I guess that's because none of them really stand above each other in terms of quality and enjoyment, and all of them wind up being pretty much the same. Well, The Atomic Brain is no exception. It features some horrible narration over a movie that didn't really need it to tell its story. Actually, watching it without sound, you can pretty much get what's going on. So, what the movie needed was character, and it didn't really have a lot of that. It did have a bitchy old woman, a serious but mad doctor, beautiful young females speaking different accents (the British gal's accent is atrociously bad), and you also have some half-witted plot about finding the perfect specimen for an aging rich lady's plan to have her brain transplanted into that of a young female. The stuff with one of the girls given the brain of a cat is actually the best stuff in the whole movie, and the funniest (unintentionally, of course). I'd recommend it to anyone who's a fan of Mystery Science Theater, and if I'm not mistaken, they did an episode on this particular movie, so there ya go.
Tim Salmons
Super Reviewer
½
Another low budget sci-fi movie from the early sixties with a misleading title. I mean it does have to do with brains, at least, but they're not atomic. The acting is horrible, the story is flawed in obvious ways, and it's kind of boring sometimes, but it could have been worse. Overall, a bad movie, but if you really suspend your disbelief, it's somewhat entertaining.
½
I got this in a 3 movie collection from Something Weird Video, so I knew from the start it was going to be strange. We have 3 women, who are hired sight unseen to come to a household, there real purpose is to be the body for a old women?s brain, we have our mad scientist who gets pissed and puts the brain in a cat. Its old school B&W. Nothing that stood out. But still not a waste of time. Only 2 1/2 stars
Bruce Bruce
Super Reviewer
Monstrosity Quotes
There are no approved quotes yet for this movie.