Izgnanie
(2007)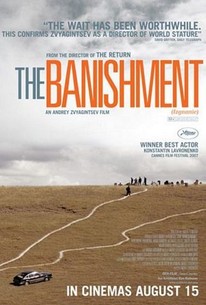 Movie Info
After receiving an unexpected visit from his mysteriously injured brother Mark, father-of-two Alex decides to take his family back to the country home of his childhood. But once there, Alex's wife Vera confesses that she is pregnant again - and that the child is not his. Agony ensues as Alex attempts to figure out how best to react. Dir: Andrei Zvyagintsev.
Critic Reviews for Izgnanie
Audience Reviews for Izgnanie
This movie is absolutely stunning visually, and the story has deep meaning. However, it didn't move me quite as much as "The Return". I'm not quite sure why, but somehow the way the movie was structured works against it, in particular the anachronisms. I was thrown off by suddenly changing timelines and even though it all made sense in he end, I think it was an unnecessarily distracting. Also I could not quite tell where the events took place, the "town" and the "countryside" seemed like they were in different countries (and as it turned out they were indeed filmed in different Western European countries - not even in Russia).
Gabriel Knight
½
It beats me how Konstantin Lavronenko won over Javier Bardem's performance in No Country for Old Men but Izgnanie is still a strong film in every other department. And sure, I suppose unexpectedly leaping from one place to another, getting wrestled to the floor, and sobbing merits some sort of award. This film I'm sure isn't for all tastes as throughout the running time there are Tarkovsky-influenced moments of hypnotizing beauty. .....
Richard Cranium
½
An amazing visual work as well as art/film about relations between a husband and wife and their effects on one's own perceptions on life and the importance of meaningful relationships. If you are looking for a lot of anything (i.e. action, comedy, drama), you will not find it here. The dialogue is actually quite minimal in this movie but the silence fills in the gaps.
Ilya Nudelman
Izgnanie Quotes
There are no approved quotes yet for this movie.
Discussion Forum
Discuss Izgnanie on our Movie forum!