The Big Sick
(2017)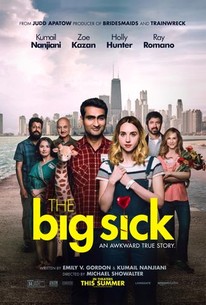 TOMATOMETER
AUDIENCE SCORE
Critic Consensus: Funny, heartfelt, and intelligent, The Big Sick uses its appealing leads and cross-cultural themes to prove the standard romcom formula still has some fresh angles left to explore.
Movie Info
Based on the real-life courtship between Kumail Nanjiani and Emily V. Gordon, THE BIG SICK tells the story of Pakistan-born aspiring comedian Kumail (Nanjiani), who connects with grad student Emily (Kazan) after one of his standup sets. However, what they thought would be just a one-night stand blossoms into the real thing, which complicates the life that is expected of Kumail by his traditional Muslim parents. When Emily is beset with a mystery illness, it forces Kumail to navigate the medical crisis with her parents, Beth and Terry (Holly Hunter and Ray Romano) who he's never met, while dealing with the emotional tug-of-war between his family and his heart. THE BIG SICK is directed by Michael Showalter (HELLO MY NAME IS DORIS) and producer by Judd Apatow (TRAINWRECK, THIS IS 40) and Barry Mendel (TRAINWRECK, THE ROYAL TENENBAUMS).
News & Interviews for The Big Sick
Critic Reviews for The Big Sick
Audience Reviews for The Big Sick
MASTER OF MOST - My Review of THE BIG SICK (4 Stars) Stop me if you've heard this one before. South Asian comic stretches his muscles by starring in a project in which he navigates the rough waters between modern concepts and the traditional ones of his religious Muslim parents. Aziz Ansari has done just that with MASTER OF NONE. It also applies to THE BIG SICK, in which Kumail Nanjiani, best known for his scene-stealing work as Dinesh on SILICON VALLEY, plays a younger version of himself, a standup comic, who falls in love with a non-Muslim woman, risking his relationship with his family. While similar in themes, tonally, THE BIG SICK goes for beautifully rendered, naked emotion, whereas MASTER OF NONE is its hipper, lighter cousin. Regardless, this Judd Apatow produced film, directed by WET HOT AMERICAN SUMMER genius, Michael Showalter, and written by Nanjiani and his wife Emily V. Gordon (played exceptionally well by Zoe Kazan), stands on its own as one of the better rom-coms I've seen in years. Since none of the names have been changed to protect the innocent, THE BIG SICK feels more personal than most films in this genre. A comic who works as an Uber driver on the side, Nanjiani meets-cute with Emily one night when she heckles him from her seat in the audience. [MILD SPOILERS IN NEXT TWO PARAGRAPHS] The first act charts their slowly burgeoning romance while Nanjiani's strict parents try to arrange a marriage for him and don't know about Emily. While following the expected rom-com beats, this section of the film stands out due to the wonderful, quirky chemistry between our two leads. Nanjiani has a quick, deadpan charm and feels completely comfortable playing himself, which is easier said than done. Kazan, who has been bubbling under the surface for years, completely captures the real Emily's looks and mannerisms. At the screening I attended, both Nanjiani and Gordon spoke. Gordon is an extremely outgoing, lovable bundle of energy and wit, and Kazan clearly has relished the chance to play such a vibrant, dynamic role. In the second act, the two find their relationship at an impasse when Emily learns that Kumail doesn't see a future for them. They break up just as Emily faces a potentially life-threatening medical condition, leaving her in a coma for this long stretch of the story. This puts Kumail in the awkward position of visiting her in the hospital and spending time with her parents (fantastic, juicy roles for Holly Hunter and Ray Romano). In a typical rom-com, Emily awakens, reunites with a changed Kumail, and they live happily ever after. Fortunately, THE BIG SICK has more on its mind as it spends its entire third act letting Emily play catch up and allow us to see things from her perspective. It gives the film balance and heft. Unfortunately, there's just a little bit too much heft at play here. Like most Apatow productions, things tend to drag on and on. In the tradition of TERMS OF ENDEARMENT and BROADCAST NEWS, he likes things a little messy when it comes to story construction. As great as Hunter and Romano are, and as pertinent it is to see their relationship as well as that of Kumail's parents (played winningly by Anupam Kher and Zenobia Shroff), these subplots stretch this film out too much, so that when Kazan's character gets a boost in the third act, you're sadly VERY ready for the film too end. As much as I applaud giving Holly Hunter something to chew on, especially the scene where she confronts a heckler during Kumail's set, I somehow feel the filmmakers had to face the conundrum of either serving the story or serving our need to see this legendary actor in full force. No matter which side of the fence you're on, what she and Romano do in the film is quite special. A little less of it would have made us more excited to experience the richness of its final stretch. Nanjiani's acting skills have until now showcased his sardonic wit, but his work here shows astonishing depth. In a scene where he defends his love of Emily to his parents and challenges them on why exactly they moved from Pakistan if they weren't going to embrace American culture, Nanjiani's naked passion made me cry. Other supporting roles function well, especially Bo Burnham and SNL's Aidy Bryant as Nanjiani's truth-telling BFFs and fellow comics. The script, in fact, captures the comedy world with a keen specificuty, but we've had such a glut of this lately (I'M DYING UP HERE, DON'T THINK TWICE) that it's not as certified fresh as one would hope. The filmmakers are swimming deep into James L. Brooks and Cameron Crowe waters, giving out an imitation vibe, but at least it's a VERY GOOD imitation. Still, by the time you get to THE BIG SICK's gorgeously rendered final scene, awash with the kind of winning emotion yet curtailed just before it gets too gooey, you can't help but adore this film.
Glenn Gaylord
Super Reviewer
The Big Sick Quotes
There are no approved quotes yet for this movie.
Discussion Forum
Discuss The Big Sick on our Movie forum!