The Bubble
(2007)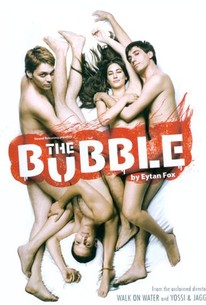 Movie Info
Lulu lives with two gay guys, brooding music lover Noam and flamboyant cafe owner Yali. The roommates' days and nights are spent in typical slacker fashion--hanging out, watching TV, getting laid. They are secular and progressive, but not overly political. Everything changes when Noam meets Ashraf, a cute and intense Palestinian guy, at a checkpoint. Noam is on reserve duty and Ashraf is helping a woman forced to give birth at the roadside--not the best circumstances for a meeting, but something connects them. When Ashraf shows up at Noam's apartment, a powerfully erotic love affair begins. Ashraf becomes part of their group, while Lulu and Yali also fall dramatically in and out of love. One almost believes that the two men could inspire change as symbols of peace, but their affair is already doomed. The awful violence of life outside the bubble envelops them, gradually making their affair one of painful, tragic irony.
Critic Reviews for The Bubble
Audience Reviews for The Bubble
½
The film broadened my mind on what is it like to live in Israel. Despite life being harsh on the main characters, they still try to live up their everyday life while balancing love and friendship. Also dealing with the conflict of a Jew and Palesteinian falling in love. The only problem with the film was the pacing and long dialogues, the culture may be intriguing for the foreign veiwers, but not for others
Sylvester Kuo
Super Reviewer
set in the mid east, amidst all the hostility, this film shows gays and their friends trying to ignore the politics and simply live their lives. there were some scenes that went on too long - more mood filler than anything else, and that detracted from the flow of the narrative. There are some powerful scenes here and while the climatic ending seemed somewhat rote, the blazing light and the circling camera were a nice touch. Overall, a canticle to peace and understanding that was heartfelt, yet somehow it managed to lack depth.
paul sandberg
Super Reviewer
½
[size=3]"The Bubble" is a challenging, compassionate film that examines the human toll of the Israeli-Palestinian conflict by building a story around the idea of an Israeli man and Palestinian man falling in love.[/size] [img]http://www.seattleweekly.com/film/blogs/siff2007/Bubble_01.jpg[/img] [size=3]From the American viewpoint, an equivalent would be a film made in 1960 Mississippi depicting a white man and black man falling in love. Just imagine trying to live such a love affair (or even see such a movie) and not be drowned by politics. First there is the politics of race; second there is all that homophobia to be managed.[/size] [size=3]In the photo above, the Palestinian character is the one depicted upside down. The others are the Israeli Jews that he befriends. Lying next to him is the guy with whom he's fallen in love. The other two characters are that man's roommates.[/size] [size=3]It is a good film, but unfortunately it's not great. The subject matter was superb, and director [b]Eytan Fox[/b] deserves some kind of United Nations medal of honor for his bravery in bringing such a story to the screen. But there was a slackness to the pacing and numerous drawn-out, lethargic scenes that really limited the film's power. With a tighter approach to editing and more energetic acting, the film's power could really have been unleashed. [/size] [img]http://www.miamisunpost.com/0425filmfest.jpg[/img] [size=3]The actors honestly seemed like they were bored in quite a number of scenes. I was befuddled by this, because it didn't feel like they were boring actors. It almost felt like the director kept slowing them down and muting their performances. If that was the case, then Mr. Fox made some terrible decisions in guiding the actors. Ultimately the actor has to do what the director says.[/size] [size=3]The story begins at a checkpoint on the border between Israel and the West Bank. An Israeli soldier helps a pregnant Palestinian woman who goes into labor in the middle of the road, but there is a tragedy which I won't give away. The soldier accidentally drops his ID card, and a Palestinian man who watched the whole thing picks it up. He then goes to Tel Aviv to give it back to the soldier. There they fall in love, almost instantly.[/size] [size=3]It is certainly eye-opening to learn how difficult it is for Palestinians to move around Israel. For him to make his way to Tel Aviv on his own "without papers" was like a Jew breaking into Nazi Germany or a U.S. slave traveling the Underground Railroad. The Israelis have to give him a Jewish name and hope that no one figures out that he's Arab. He speaks Hebrew well, so that is a help.[/size] [size=3]When someone does figure out that he's Palestinian, he has to flee to the West Bank terrified that he'll be arrested. This quite seriously shook me up. I honestly did not know this. For an Israeli film to open my eyes to this made it all the more poignant. The Jews who developed this project and brought it to the screen are tremendous moral heroes.[/size] [size=3]Woven into the story is also a critique of homophobia. Tel Aviv is depicted as Israel's San Francisco; gays and lesbians are everywhere, and they appear to lead very open lives. But none of them appear to be out to their families, which was sobering.[/size] [size=3]But the most intensely homophobic people in the film are the Palestinians. This depiction was very disappointing to me. It was the one area where I felt the Israeli creative team was suffering from a slight bigotry of their own. Gays and lesbians in the "Western world" (especially white ones) often believe that homophobia is at its worst in the "Third World." [/size][size=3]I have to say that I simply have not seen this to be the case. Homophobia is stylized differently, and there aren't the same "gay" outlets, but there are many ways that homophobia is challenged and undermined in the Third World that white Westerners seem blind to. [/size] [size=3]My Palestinian friends here in NYC who have homosexual inclinations don't feel capable of adopting the "gay" lifestyle, but they find many ways to explore their sexuality with the silent complicity of almost every family member, including fathers and brothers. Homosexuality isn't lived in the Third World in the same way it's lived in the Western world. But "gay" isn't the only way to live it. And the idea that homosexuality isn't a part of Arab life is beyond preposterous. [/size][size=3]The moral heroes who made this film can't be asked to do too much, however. They've done enough. And they deserve our thanks.[/size] [size=3]It should be noted that the actor playing the Palestinian (the actor's name is [b]Yousef "Joe" Sweid[/b]) was the best actor in the film by far. His eyes conveyed tremendous depth in every quiet scene he had. I will keep my eyes out for him on the world-cinema stage. I hope he gets the opportunity to stretch himself in many more films. I'd like to see him make a Palestinian film critiquing Israeli gays and their patronizing view of Arab gays![/size] [size=3]It should also be noted that the film is sexually explicit in a way that is unusual for depictions of homosexuality. We have gotten inured to simulated heterosexual intercourse; it's almost required in American films now. But we haven't seen homosexual copulation many times, if ever. You will certainly see plenty of it here. [/size] [size=3]To the film's credit, it isn't presented in a vulgar or pornographic fashion. Even though it's explicit, the emphasis is on the characters' feelings during the sex act, not the sex act itself. There is a long scene where the Palestinian receives anal intercourse for what appears to be the first time, and there is a tremendous amount of attention paid to his face. The experience appears to be transformative for him, and his face and his whole body convey that beautifully. I'm sure this was a very difficult scene for Sweid, but he threw himself into it with the seriousness of a major actor seeking to reveal his character's inner experience.[/size] [size=3]The ending of the film is horrifically violent, and this really came out of left field. It didn't at all seem to me the kind of thing these characters would do. It just seemed absurd, as if the screenwriter couldn't figure out how to end it and just thought an explosion would be dramatic. I was left unmoved because it seemed so false.[/size]
William Dunmyer
Super Reviewer
The Bubble Quotes
There are no approved quotes yet for this movie.