The Castle
(1999)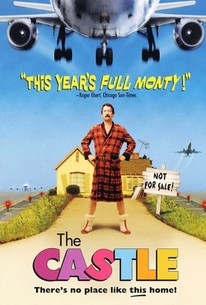 Movie Info
Working-class tow-truck driver and father of four Darryl Kerrigan's (Michael Caton) only distinguishing feature is his beaming reverence for his home and family. Although is kids appear to be underachievers and his home is located on the edge of a major international airport, his family is his pride and joy and his home is his castle. So when goverment officials demand that Kerrigan sell his house for an expansion of the airport, he fights back through the legal system- all the way up to the Supreme Court.
People Who Like this movie also like
Critic Reviews for The Castle
Audience Reviews for The Castle
½
Played less for laughs than for smiles, an imperfect family housed in an imperfect place (the end of the Melbourne Airport's runway!) finds itself pitted against a goliath when the airport needs to expand. Can the little guys win against the system? An amusing tale because the imperfections are lovingly embraced rather than judged. One from Down Under, mate! Oy!
Kevin M. Williams
Super Reviewer
½
Quite a good film, though one that, by the end, is probably too sentimental, and sometimes too idealistic, for its own good. But overall I think the film does mean well and, for the most part, is it the right amount of wit and sweetness. In some ways, at least in how the jokes are presented and not necessarily the style or execution, remind me of Arrested Development and its use of running jokes. There are some jokes that are repeated here and there but it doesn't come as laziness, it's just a character trait and I thought it led to some very funny moments in the film. I wouldn't say the film is 'tears rolling down your face' funny but it is consistently funny and that's a more than I can say for a lot of movies. It also has a really good cast headed by an immensely likable Michael Caton. To be honest, this man is adorable. Perhaps not the most complex of characters, though his motivations for refusing to give up his home without a fight are certainly the most complex part of his character and how important this really is to him, but the way he looks at everything, and I do mean everything, in the most positive manner possible makes it really hard not to root for the guy. And somehow his positivity doesn't make him come across as naive, which it often does. It, again, makes the guy very likable and easy to get into his character and his motivations. This is light, but clever, fun. It's not something you'll remember for the rest of your life but it did entertain me a lot for its short running length.
Jesse Ortega
Super Reviewer
possibly the greatest aussie film ever, the castle is inspired. film in a crazy 14 days, the castle has stood the test of time and is responsible for some of the great aussie catch phrases used today.
Thomas Bowler
Super Reviewer
The Castle Quotes
There are no approved quotes yet for this movie.